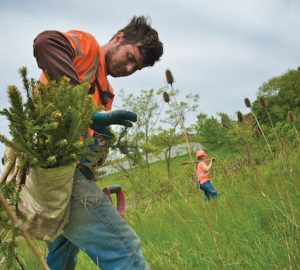 Thank you to Diplomat magazine for raising the important issue of tree planting in Ontario. Urgently needed: billions of trees, Lost Legacy, Winter 2011 issue).
Protecting our environment is a key priority of the McGuinty Liberal government and, since being elected in 2003, we have put in place strong environmental legislation to make Ontario a greener and healthier place to live.
As an environmental advocate and Minister of Transportation, I am committed to finding and investing in sustainable transportation alternatives that will reduce our emissions and improve road safety across Ontario.
As your article noted, the decline of tree planting in Ontario began with the NDP and Progressive Conservative governments from 1993 to 2003. In 2007, the McGuinty Liberal government committed to plant 50 million trees by 2020, the most ambitious program of its kind in North America. In partnership with Trees Ontario, the program is a part of the United Nations Billion Tree Campaign.
At the ministry of transportation, I'm pleased to announce that we are investing more than $2.5 million over five years to plant more than 1 million trees along our busiest highways as part of the Greening the Right of Way program.
The initiative will improve highway appearance, reduce the effects of climate change, improve air quality and increase driver safety by reducing the hazard of drifting snow. This spring (2011), approximately 200,000 trees were planted across Southern Ontario from Ottawa in the east to Chatham in the west.
Our most recent safety data shows that Ontario has the safest roads in North America. In order to maintain our safety record, we have planted trees as a natural snow barrier — including more than 5,300 Norway spruce along the Highway 402 corridor east of Sarnia to prevent instances of drifting snow. [The focus of this planting was the north side of the road along sections that received the most serious snow load in winter 2010/11, which resulted in Highway 402 being closed from Strathroy to Sarnia].
In addition, our Liberal government has made major investments in clean energy and green infrastructure to keep our environment green and sustainable for generations to come.
Since 2003, we've invested $10.8 billion in public transit, the largest investment in a generation. We've committed over $1.9 billion in funding for transit to Ontario municipalities and as a result ridership has increased by nearly 100 million trips — removing 83 million car trips from our roads.
There is more work to be done. Our government will continue to make the environment and investments in green technologies a priority. Again, I would like to express my gratitude to Diplomat magazine for your advocacy and bringing awareness of these important environmental issues with your readers.
Kathleen Wynne
Ontario Minister of Transportation
Category: Diplomatica