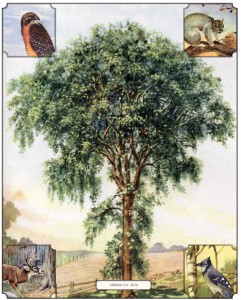 Ontario's official watcher of the woods says we need to plant billions of trees in southern
Ontario alone. Why? Beginning in the 1990s, the province presided over a calamitous decline in the number of trees it plants every year.
By Donna Jacobs
When their sheer beauty is not enough, trees more than earn their right to our keep. Even as they shade us, they are breathing in the carbon dioxide we and our machines exhale. In the finest alchemy imaginable, they return it to us as pure oxygen and cooling moisture. They support us in every way. Their timber forms the structures of our homes, the furnishings, the finishings. We write on their fibres, drink their fruits, eat their seeds, warm by their fires and thrive from their medicines.
They keep us. They give us the raw material that transforms into myriad products that help sustain one billion people on earth — one-sixth of us. They sustain the invisible denizens of the soil and air, the intricate creatures and plants that keep us company and nourish us. And where their beauty is enough, these stationery beings share their serenity with a stressed and hurried humanity.
In this issue, Diplomat magazine looks at the state of the trees and the facts of the forests, here and around the world. Gordon Miller is Ontario's official watcher of the woods. In this interview, the province's environmental commissioner shares his lofty goals for the province's trees and asks us to take out a planting policy for the insurance coverage that trees provide against natural and man-driven destruction, now and to come.
Ontario's goal of planting 50 million trees in the next decade is "well and good," says Ontario's environment commissioner Gordon Miller. It's just not enough.
Not enough?

That's only 5 million trees a year, he says. Back in the 1980s and 1990s, Ontario's landowners, conservation authorities and forestry companies planted 20 million to 30 million trees a year in southern Ontario alone — and thought nothing of it.
"We were doing that relatively easily," he says. "So let's push it higher. Why can't we do 100 million a year? In 10 years, it would mean a billion trees."
And that would mean planting 10 to 20 trees a year (since not all would survive) for every man, woman and child in the province (population 13 million) — and doing it for a decade.
Mr. Miller, a biologist and ecologist who has served as Ontario's environment commissioner for 11 years, has scientific support for his sky-high goals. Environment Canada says that a healthy urban-suburban landscape requires a minimum 30 percent forest cover in its watersheds. Ontario has an average of 22 percent forest cover in its watersheds — the large land mass that drains into rivers.
For example, it will take a billion trees to restore proper forest cover in the Humber-Black Creek watersheds alone — and 175 years at the present rate of planting. The Humber River watershed covers 900 square kilometres west of Toronto, stretching from its headwaters in the Niagara Escarpment to its river mouth in Lake Ontario.
Few people have a quarrel with trees, or having many more trees. So what's the problem?
The explanation takes you back two or three decades, to the swift, systematic dismantling of Ontario's tree-planting systems that began under the leadership of Bob Rae, Ontario's NDP premier from October 1990 to June 1995. (He is now Liberal MP for Toronto-Centre and opposition foreign affairs critic.)
Between 1905 and 1996, the Ontario government operated nurseries, run by the Ministry of Natural Resources (MNR), which supplied landowners with 792 million seedlings — without charge until the introduction of a nominal fee in 1980.
In 1991-1992, nearly 30 million trees were planted on private lands in southern Ontario. Then, premier Rae launched a reversal that, within a decade, saw plantings fall to less than two million.
In 1993, MNR closed its many nurseries and, in 1994, began negotiating the end of forest agreements with landowners. That year, the number of plantings plummeted to 10 million trees. Today, only one MNR seed production facility, the Ontario Tree Seed Plant near Barrie (which began in 1923), remains.
With tree plantings hitting an 80-year low, the debacle continued under Conservative premiers Mike Harris (1995-2002) and Ernie Eves (2002-2003). The number of plantings fell further when Liberal Premier Dalton McGuinty first took office in 2003 and barely registered by 2004 (see graph on page 32).
In 2007, Mr. McGuinty announced a policy to plant 50 million trees across southern Ontario.
The old system had worked on an arrangement among public, private and conservation authority nurseries whose sales were guaranteed and often subsidized. A tree would cost between 10 cents and 25 cents. At today's prices, says Mr. Miller, a similar program might mean charging $1 per tree, with the government matching it.
Right now, though, he says, "we're not challenging the system at all. We're not expanding our production — and it would require a big expansion."
In an acerbic paragraph in his latest annual report, Mr. Miller notes MNR's statement a year ago that the demand for trees exceeded the supply. But what demand and what supply?
While one might assume that "supply" is tree-seedling stock, Mr. Miller learned that it actually referred to MNR's funding, administered by Trees Ontario. MNR capped plantings at 2 million a year despite, says Mr. Miller, the "ability and interest to plant more."
By 2013, Trees Ontario, a Toronto-based NGO, projects planting 3.5 million trees under its 50 million tree program. Says Mr. Miller: "They're great people doing great work."
The goal is too modest, he says, only because the multi-year time line needed to move from seed to tree-in-the-ground makes the provincial funding too modest.
In fiscal years 2009-2010 and 2010-2011, MNR funded Trees Ontario for the 50 million trees program with $3.2 million each year, which pays for two million planted trees annually.
With Ontario's 50 million tree program and other tree-planting programs, Mr. McGuinty's initiative reverses Mr. Rae's catastrophic program cut. And Premier McGuinty's   2007 announcement was unequivocal: Ontario's record-setting goal is "the most ambitious program of its kind in North America and the highest goal of any single jurisdiction anywhere."
This initiative is Ontario's hefty contribution to the United Nations' Plant for the Planet: Billion Tree Campaign. (To see how well the UN's program is doing, go to the "clock" on the UN website www.unep.org/billiontreecampaign.) The UN intensified its focus by declaring 2011 International Year of Forests.
By mid-December, worldwide, 12,090,482,372 trees had been pledged and 10,725,790,082 had been planted (towards a 13 billion-tree goal).
Canada's registered contributions totalled 126,363,528 trees — all planted and accredited, with planters' names and often locations duly noted by UN record-keepers. They include all quantities, from one tree at Ottawa's Venta Preparatory School, under the name of Tracey Quinn, to 165,450 trees for the City of Gatineau, under the name of Delphine Azoulay.
With its goal of one billion trees planted each year worldwide, the UN program was inspired by the winner of the 2004 Nobel Peace Prize, Wangari Maathai. She founded Kenya's Green Belt Movement which, since 1977, has planted more than 30 million trees in 12 African countries.
Robert Keen, a professional forester, prepared Trees Ontario's first business plan in 2002, became its program manager and is now its CEO. Trees Ontario's current goal, he says, is to support the planting of 10 million trees a year by 2015. Beyond its work with MNR, Trees Ontario oversees a number of planting programs and works with 65 partner organisations all around the province.*
Since 2004, Trees Ontario has planted more than 10 million seedlings in Ontario. Says Mr. Keen: "We are the largest not-for-profit tree-planting partnership in North America."
The McGuinty government's policy reversal in 2007 was intended to be long-term. Mr. Keen notes that the government committed a total of $79 million to realize its 50-million-tree goal by 2020.
The Ontario government's MNR tree-planting program provides the crucial elements — significant long-term and sustainable funding — that underpin both its own and other private planting programs in the province, says Mr. Keen.
If we are to increase planting levels significantly, he says, still greater funds in the long term are needed to support science and infrastructure, such as increasing nursery capacity.
If Environment Canada pitched in directly, with long-term federal funding, he was asked, how many more trees could be planted in Ontario? He estimates plantings could increase by 1 million this year alone.
You might think that you would need a great expanse of rural properties to plant millions of trees. Mr. Miller says you simply don't. He cites one of Ontario's most extreme examples of treelessness — Essex County's five percent forest cover. Essex County (near Windsor) is not a candidate for the 30 percent goal because its rich farmland. However, Essex does have public land — and so do other jurisdictions. There are roadsides to plant. Even farmland "fence rows" have returned to favour.
People who want to help should turn their minds to these public spaces, Mr. Miller suggests. "We mow funny expanses of lawn for no apparent reasons," he says. "You can look at them as potential new little forests and woodlots. If we can imagine nice, mature trees and forests and put some benches underneath them, people would walk there, people would sit there, people would enjoy that."
Funding aside, two obstacles block Ontario's goal of planting one billion trees in the next 10 years, he says.
The first is professional management. "To sell you a tree in Spring 2011, a nursery has to have two-year-old stock, therefore planted in 2009. (Spruce trees take less time and have a high success rate, hence their popularity.)
"But before that, you've got to get seed from the eco-zones where the trees are native and grow well.
"And before that — I'm trying to back it up — you have to have the seed back in the fall of 2008. But was it a good seed year? Was it a mast year (acorns, beechnuts, maple keys are called mast)?"
It may take several years of seed and mast collections to get enough seed for this project. Further, it takes manpower and knowledge to operate nurseries and properly to "set the seed" for its two-year growing season.
The second roadblock is human nature: "We're an impatient society," he says, "and selfish."
The comment reinforces a reflection quoted in one of his reports: "A society grows great when old men plant trees whose shade they know they shall never sit in."
"It speaks to our society," he says. "We're so impatient — we haven't always been. You know the beautiful roadside trees, statuesque, in Southern Ontario? They were planted under government programs by farmers with the long-term plan that they would shade the roads. We don't think of planting stately giant trees because we know it's going to be a hundred years from now that they'll be overhanging streets. It's not worth planting them."
Is he asking people to bring back the hickories, the oaks, the maples?
"Yes," he says. "We're asking people to bring them back for our great-grandchildren because a lot of the trees we enjoy today were planted by our great-great grandfathers and great-great grandmothers. They gave them to us.
"What are we giving to the generations to come? I see this shorter selfishness north of Toronto all the time. When you get a residual woodlot with residual trees in it, people fight like hell to save them. I'm all for that. But they don't ever say, 'OK, here's a piece of green space, I want to fight to have it put into a forest.'"
He notes that the first thing builders do in subdivisions is to "take all the trees down and take all the topsoil off."
It's counterproductive; after all, treed properties are worth more and trees promote a sense of well-being.
Separation from nature is producing a huge amount of stress in people, says Mr. Miller. The modern "cultural insulating blanket" around us makes it hard for people to realize that we are animals.
"We are creatures," he says. "The more we isolate ourselves from the natural processes to which we respond, the more stressed we become. It is interesting: People sit in their cars, in their traffic jams. They get angry and frustrated. They realize how unpleasant it is when they get some time off on a weekend or take a vacation in a natural setting."
Climate change, he says, makes proper reforestation all the more important.
"In 90 years, Southern Ontario will exist in Marathon, Ontario (on the northern shore of Lake Superior). While some animals can make the switch, how about trees? How far do maple keys and acorns go in a year? Even with the help of animals burying them, perhaps 100 metres a year. "
He cites the white trillium, Ontario's own provincial flower, as an example of the invisible, delicate inter-species relationships that sustain this woodland flower. The trillium produces oils that attract ants that carry the trillium's seeds to their nests. "So you can imagine," he says, "their dispersal is quite modest — maybe a few metres a year."
Mr. Miller wants to create "forest pathways" to help the plants and animals migrate along natural corridors.
He says that once people grasp the situation — that the songbirds they love and feed and watch come and go with the seasons — are dependent on the treed areas to thrive, and increasingly, to survive, then planting trees or not cutting them down becomes a fairly simple sell.
"Songbirds are a huge group that are in danger of disappearing. When was the last time you heard a whip-poor-will?"
The whip-poor-will is a threatened species in Canada and Ontario. If the reasons for its decline — loss of habitat, predations (possibly by feral cats as it lays its eggs on the ground), perhaps loss of insect food (due to pesticides) — are not reversed, it will become endangered.
And the trees themselves are perishing. "Forests are under attack, he says — though by no means for the first time."
In 1911, when chestnut blight came to North America, the people who picked sweet chestnuts for sale and the people who used the wood for fine furniture and rail fences, lost this species. Fewer than 200 exist, at any size, in Ontario; they are considered endangered both provincially and nationally. "People eventually won't know there once was an American chestnut."
He has planted American chestnuts in the front yard of his home in North Bay. "I think they've got to be the most northern American chestnuts growing in the North American continent," he laughs. "And they're growing, doing quite well although I haven't been able to get them to produce viable seeds yet." The tallest is seven or eight metres.
Starting in the 1960s, Dutch elm fungal disease wiped out American elms in Southern Ontario (many continue to die.) The emerald ash borer, a foreign invasive species, is attacking white, green and black ash with "a very high mortality rate." And, more recently, butternut trees are now threatened by a fungal disease and are classed as endangered under the Ontario Endangered Species Act .
"When I ask you 'When was the last time you heard a whip-poor-will?' eventually you think back and notice. This [loss of environmental knowledge] is going on through the generations," he says.
His worry list is long. He first mentions the arctic animals, the polar bears and harp seals whose ice is melting, along with arctic flora whose tundra will disappear. Alien species will inevitably move into warmer regions — species such as the opossum are already here. Species will interbreed as their territories overlap.
When he isn't writing reports, reading papers and legislation and travelling the province, Gordon Miller is outdoors. And when he isn't studying the structure of old growth forests and measuring the diameter of huge old trees, planting trees, and doing nature photography, he snorkels and goes "poking around" aquatic plants in Ontario's ponds.
"People are often much aghast when you swim into the 'gooey weeds,'" he says.
"With the floating leaf layer, the water is around 40ºC. That's where the frogs lie, nose sticking out of the water. They have a really good time there.
"You dive down under the weeds. It's another world. You get down into the shade, and there are small fish, the substrate of hydra — the little animal that has little tentacles and grabs little bugs out of the water. You see all these tiny organisms living there. It's a complex forest-like structure."
And there is even some drama.
"Once in a while, along comes a big predator or you'll scare up a big predator — a big pike or bass has gone in there after the minnows. Or you'll see a turtle. Or, once in a while, it's not always pleasant, and you'll be face-to-face with a water snake."
He laughs: "That's not great. I've had a few close encounters. You get caught up in the weeds and you're nose to nose with the damned thing and, of course you've got a mask on. They take off, but they are sort of nasty things and you've got to be careful. They will bite."
His favourite tree is white pine; several giant ones grow through the deck of his cottage in Cassels, near Temagami. And his favourite animal species are pine martens and fishers: "They're wild and exotic." Among birds, he is partial to the raptors — eagles, hawks, merlins, peregrine falcons — and to nighthawks and whip-poor-wills.
Beyond his bachelor degree in biology and masters in plant ecology, he has worked on environmental pollution, on acid rain, on wastewater treatment (either in the private sector, the public sector or with an NGO.) And, finally, he ran his own consultancy before answering a Globe and Mail ad for the position of Environment  Commissioner of Ontario (fittingly abbreviated as ECO.)
With a budget of approximately $3 million and a staff of 24, he says the job is liberating. "You can express yourself, and I am able to give that freedom of expression to my staff." Besides working with young people, the best part of the job is "the ability to deal in what we see is the truth, in objectivity and to get clear messaging out, and to make a difference."
And he "gets it out" to the right audience. He is one of only two environment commissioners in the world who actually reports to a parliament, rather than a government. The other is in New Zealand.
Donna Jacobs is Diplomat's publisher
Category: Dispatches