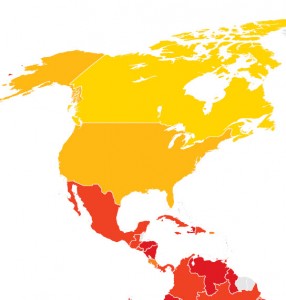 Transparency International, based in Berlin, publishes a global index each year that measures government corruption. Here, along with its 2010 index, the organization warns that the economic crises of the moment have put even wealthy governments in danger of increased corruption.
With governments committing huge sums to tackle the world's most pressing problems, fromv the instability of financial markets to climate change and poverty, corruption remains an obstacle to achieving much needed progress.
The 2010 Corruption Perceptions Index shows that nearly three-quarters of the 178 countries in the index score below five, on a scale from 10 (very clean) to 0 (highly corrupt). These results indicate a serious corruption problem.
To address these challenges, governments need to integrate anti-corruption measures in all spheres, from their responses to the financial crisis and climate change to commitments by the international community to eradicate poverty. Transparency International advocates stricter implementation of the UN Convention against Corruption, the only global initiative that provides a framework for putting an end to corruption.
Denmark, New Zealand and Singapore are tied at the top of the list with a score of 9.3, followed closely by Finland and Sweden at 9.2. At the bottom is Somalia with a score of 1.1, slightly trailing Myanmar and Afghanistan at 1.4 and Iraq at 1.5.
Notable among decliners over the past year are some of the countries most affected by a financial crisis precipitated by transparency and integrity deficits. Among those improving in the past year, the general absence of OECD states underlines the fact that all nations need to bolster their good governance mechanisms.
The message is clear: Across the globe, transparency and accountability are critical to restoring trust and turning back the tide of corruption. Without them, global policy solutions to many global crises are at risk.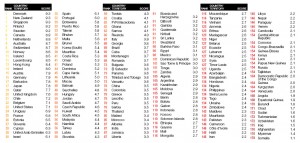 — Transparency International
Category: Dispatches