Flora MacDonald has been to Afghanistan 12 times. Not every woman her age — she's 86 — can say the same. But then Ms MacDonald's whole life has been about firsts. She was the first woman to mount a serious campaign for the leadership of the Conservative Party of Canada (no women had run for the leadership of the Liberals at that time, either). Elected to Parliament in 1972, she became an ally of fellow red Tory Joe Clark who, in 1979, made her Canada's first female secretary of state for external affairs. Indeed, she was one of the first female foreign ministers in the world at that time.
Today, she divides her time between her two-bedroom apartment overlooking the Rideau Canal on Queen Elizabeth Driveway, and travelling across the country to drum up support for her charity, Future Generations Canada. When at home, she's surrounded by mementoes from her travels, trinkets collected during her short stint as foreign minister and later, from the humanitarian work she's been doing in Afghanistan and Tibet since 1988. There's a cloth banner that looks like a wood tote, but is actually used to carry children on the sides of camels. There are bells used to herd livestock from Tibet, a glass-encased figure from China, a wood-carved game from Africa. Every square inch is covered — walls and surfaces. One wall of the living room is lined with bookshelves full of history books. Another bookshelf overflows with archived copies of Foreign Affairs journal, Maclean's and National Geographic.
The irrepressible octogenarian — who has significantly distanced herself from politics and practically spits when discussing the Harper government — these days votes NDP. She spoke to Diplomat's editor Jennifer Campbell about the good old days in politics and her current preoccupations.
DM: Can you start by telling me about your work in Afghanistan?
FM: It's an NGO called Future Generations Canada because we work for future generations. One of the things I do throughout Afghanistan is set up training sessions for women and girls, because in places like Afghanistan, girls and women don't get all that much attention. In the villages we're in, the women and girls participate alongside the men and boys — that's different from most other places in Afghanistan. We're in 75 villages.
DM: Are you still travelling regularly?
FM: Mostly I'm travelling in Canada. I raise money by speaking in various places. They invite me to speak and the way we do it is they take half of what the event raises and I take the other half for our work in Afghanistan. I have to pay for everything myself, but I often have enough frequent-flyer points to cover my travel.
DM: How much money have you raised over the years?
FM: Oh, I don't know, but it would be a lot. I keep these programs going and they all cost about $50,000 or $60,000 a year.
DM: Why did you become interested in Afghanistan?
FM: I met a man and his son in New York and I travelled with them to Northern India. Once I did that, I began to take trips on my own through what was not yet Pakistan — it was split from India later. Once I got to the far side of Pakistan, I decided to keep going to Afghanistan.
But my interest goes back farther than that. My father's oldest brother left school in North Sydney because Grade 10 or 11 was as high as you could go at that time. He went to Dalhousie to continue his studies and it was then that the Boer War broke out. There was a great call to the
Empire, to go to South Africa and fight, which he did. Then, he decided he liked it so much there that he would stay. After he'd stayed in South Africa, there was a call for the troops — he had joined the Black Watch Regiment — to go to India.
His regiment went to the far end of India, which touched on to Afghanistan at that point. He was there until the First World War broke out. He commanded a regiment and he would send letters home every two weeks to his parents. It was essentially his diary. It was reading that that got me interested in what this country was like. I was in my teens at the time. My father had kept all these letters. My uncle, Alexander MacDonald, was shot and killed in Afghanistan as he was getting the remainder of his troops back. I had always wanted to go back and see where this battle took place and where he died.
I (first) went to Afghanistan in 1988 or 1989. When I was foreign minister, I always had to get back quickly when I travelled, so after that ended, I decided to go back and see these things for myself.
DM: What was it like to be foreign minister in the '80s?
FM: There were two secretaries of state at the time, one for foreign affairs and one for domestic affairs, so the secretary of state for foreign affairs, had a lot of things that came under it. That's the way it was at that time.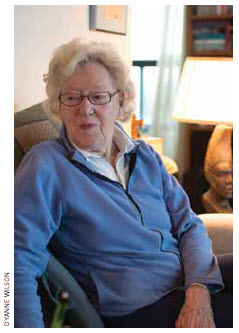 DM: Was it your dream job?
FM: I don't really think so. Things just kept happening to me. I didn't expect to get elected. When I first ran, it was an accident. I was supposed to be helping someone else and when that person didn't show up, they sent me up to speak. The next thing I knew, I was chosen to be the candidate. It was like I was shoved into it. And no one really took me as being serious.
DM: Were you serious?
FM: Well, I was just really surprised by it. On election night, we ended up having a huge party. I was surprised I won. At that time, I was the only woman in the opposition. It was 1972. I had been working in Kingston, at Queen's University.
My family was always interested in the political scene when I was growing up. When Bob Stanfield was elected premier of Nova Scotia, I went to Halifax to see if I could get a job with his new team. I didn't, but I did get into working at PC headquarters there and after that, I ended up moving to Ottawa and got into the PC headquarters here. I'd go work in provincial elections across the country. We had won elections in Newfoundland, Nova Scotia, New Brunswick and Prince Edward Island — so that was four (provinces). During that time, Jean Charest and his wife moved into this building (on Queen Elizabeth Driveway) and I would babysit his children when he and his wife would have to go out to functions. The strangest connections happen. We've always remained friends.
DM: You were minister during the Iran hostage crisis (when six American diplomats who evaded kidnapping were taken to the Canadian and Swiss embassies to hide.) What do you remember from that time?
FM: I remember I was in Parliament and I had been told what was happening, but that I couldn't repeat any of it. So I was in the House (of Commons) but I couldn't say what was going on and had to pretend I didn't know anything about it. So I ended up just having to look awfully stupid in the House, giving such far-out answers. It was over Christmas and we met almost up to Christmas Eve and came back right after New Year's. All of this time, I was being pestered by the press and I couldn't even discuss it with my own staff. In the end, when I came out, I was blamed for not having done more at the time. It was absolutely frustrating.
When it was all over, we were at a ballgame in New York and there was this huge audience at the stadium. They rose and sang O Canada, among other things. It was great but I kept getting blamed at home for not having done enough. It was a very turbulent time, but it's also one of the memories I will always have.
DM: You were the only woman in cabinet. What was it like being in an old boys' network?
FM: I was expected to play my role as a minister and I was expected to play a role as the leader of the women's movement and those are big shoes to fill. I was absolutely, totally exhausted at the end of that campaign. Later, when Mulroney was elected, there were more women elected and eventually, it was thought normal to have women in cabinet. They didn't go through what I went through. (Points to a picture of Clark's cabinet where she's the only woman). See, I made it a point to wear a light-coloured dress so it would stand out. Now, over here (points to a photo of Mulroney's first cabinet), the Queen and I are dressed to stand out. You can see there are half-a-dozen other females in cabinet, but they all came in wearing dark clothes. I mean, of all the stupid things!
DM: Can you talk about the current government with respect to foreign policy? Is John Baird doing a good job?
FM: There isn't anybody in that government doing a good job. I don't think they know what it's all about.
DM: Are you still a Conservative?
FM: I'm still a Progressive Conservative. There are only a few of us left: Joe Clark, Lowell Murray. We get together from time to time.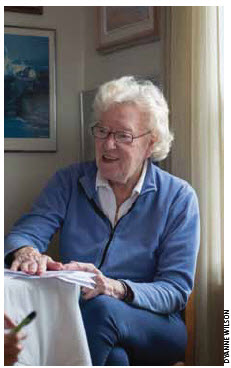 DM: So how do you vote now?
FM: I vote NDP. You see, when I was foreign minister, there were two buildings on Sussex at that time. One was the department of foreign affairs and the other was City Hall, where Marion Dewar was mayor. We were great friends and we'd do things together all the time. We worked together on the boat people project. She came to me and we worked out that she'd bring 4,000. I said I'd take her example and speak to people all across the country about it and urge them to do the same thing. At that point, I persuaded the cabinet that we should be able to take in 25,000 and I'd get people in the various cities to match it so we'd bring 50,000 in total.
And, I'll never forget it, someone up in Yellowknife said they wanted 100 there. It was happening everywhere and it ended up being about 80,000. It was the biggest mass migration since the 1850s when Canada was opening up. Marion Dewar and I often appeared together and she'd bring her son, Paul. I've always known him and so, I've always supported him (Paul Dewar is the NDP MP for Ms. MacDonald's riding.)
DM: What do you consider the world's hot spots right now?
FM: The part of the world that is most interesting at the present time is the Far East. This is where population is exploding, where new kinds of enterprises are being built. It's a seething mass of energy and we really know so little about it. We go to a city in China and think we know China, but how do you know a civilization until you've really immersed yourself in it completely? I say that because I've worked in Afghanistan and I know what it is to know people in 75 villages, but that's only one minor part of Afghanistan and that's only one minor part of Asia. We don't really have a global perspective on the world and regardless of how much (John) Baird tries, he doesn't come at it from that point of view.
DM: What's the most concerning spot globally?
FM: To me, it's there as well. The fact that we are still interested as a country in Afghanistan. In how many parts of the world have our soldiers been posted? There aren't that many in recent years and yet the government still knows so little about it.
DM: What do you make of the increasing number of attacks on NATO troops by their so-called allies in the Afghan security forces?
FM: The fact is that Asia is a tribal society. They have been fighting among themselves for hundreds and hundreds of years. We think by going into one or two cities in Afghanistan, we can figure out what it's all about.
DM: Are you surprised by the attacks?
FM: No, not if I go back and look at the history of Scotland. That was a tribal society. I grew up knowing these things. My father used to say "Scratch a thief and find a Campbell" (laughs). Or "false and fair, like a Campbell." You have these things which are part of your history. You just really see all this from a different point of view when you look at it from the way in which the world is composed — different areas of tribal societies. Africa is one of the best examples.
DM: What are your thoughts on the Arab Spring?
FM: Again, it's very much part of that tribal society. It didn't surprise me.
DM: Were you pleased?
FM: Yes. But I weigh everything with a much longer look at it. I'm optimistic because it's happened before, so many times. There have been ups and downs throughout history. It's fascinating because you see it happening again and again. There's always a bright picture after the bad times. I've seen that — coming out of the First World War, everyone was so joyous and then suddenly there was the crash. Then it was rebuilt. So I'm always optimistic.
DM: Are you still travelling internationally?
FM: Yes. I'll always go to Afghanistan. I've been there 12 times.
DM: Have you written your memoirs?
FM: Yes, there are 13 chapters, over there (points to a bookcase in the corner). It will be published at some point.
DM: You have a photo of Flora MacDonald's gravestone on your wall. Tell me about that. (Flora MacDonald helped Bonnie Prince Charlie escape capture on the island of Benbecula after the Battle of Culloden and then accompanied him under cover — he was dressed as her maid — to the Isle of Skye.)
FM: That's the woman I'm named after. There has always been a Flora MacDonald in my family, through the generations. (Reads the headstone) "Flora MacDonald, preserver of the life of Prince Charles
Edward Stewart. Her name will be mentioned in history, and if courage and fidelity be virtues, mentioned with honour."
Category: Diplomatica