By Carlos Gómez-Múgica
Ambassador of Spain
To write about my country is something that I love, especially to invite readers to visit Spain and to see it from a different perspective. Tourists, on their first visit especially, express amazement at Spain's diversity. Not by chance has Spain been labelled a mosaic of history and cultures.
The many civilizations that have left their mark on the country through its history have made Spain a unique place — a place that welcomes visitors, not only with its rich history, but also with its diverse animals and plants, to say nothing of a delicious and varied gastronomy.
Madrid, the country's capital, is one of the main gateways for visitors from Canada. The city combines the most modern infrastructure with an important cultural, artistic and historical legacy. Some of the highlights include the Plaza Mayor (a square that dates back to the 17th Century), the Royal Palace and the Prado Museum.
While visiting Madrid, it is a must to enjoy some "chocolate with churros," a very popular dish made with fried dough. Remarkably, Madrid is home to the oldest restaurant in the world, the Casa Botin, which has specialized in traditional Castilian cuisine since 1725.
The other main gateway to Spain is the city of Barcelona, a cosmopolitan Mediterranean city that incorporates Roman remains and medieval districts within its urban streets, along with world-famous modernist buildings by both Antoni Gaudi and Luis Doménech I. Montaner, many of which have been declared World Heritage sites by UNESCO. One of the main arteries of the historic quarter, La Rambla, leads to the city's sandy beaches.
While visiting these two cities, I would suggest making a trip to some of their municipal markets, such as the Mercado de San Miguel in Madrid or the Mercat de la Boqueria in Barcelona. Both are fine examples of historic markets, where you can mix with the locals while getting fresh produce and also taste some tapas at their specialty stalls — a unique culinary experience. Tapas — small plates — is popular throughout Spain and very different in each region, so don't miss the opportunity to try them while you are there.
Apart from these two vibrant cities, Spain is also home to 13 UNESCO World Heritage cities, the second highest number in a single country.
One of them, not far from Madrid, is Alcala de Henares, known for being the birthplace of famous writer Miguel de Cervantes, author of the classic Don Quixote. His home now serves as a museum.
Other UNESCO-protected cities are Avila, a romantic medieval walled city that can be easily accessed by car, train or bus from Madrid, and Segovia, home to one of the finest examples of Roman engineering in Spain. It features an impressive aqueduct from the 1st Century that still dominates the entrance to the historic quarter.
Some other UNESCO heritage gems are Salamanca, a quaint town with one of the oldest universities in Spain (it still welcomes students from all around the world every year), and Cuenca, famous for its "hanging houses" from the 14th Century, medieval homes that literally hang from a cliff above a gorge and are still used as restaurants and museums.
Another city that richly deserves a visit is Toledo. Located south of Madrid, this town played a crucial role as a cultural centre for many centuries. Although its origins date back to the Neolithic period, it was during the 2nd Century BC that the city became more significant after being conquered by the Romans. Later, Toledo was known as the city of the three cultures because Christians, Arabs and Jews lived together for centuries. These special characteristics have given Toledo an immense historic value and it is not to be missed.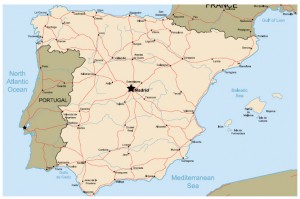 In the region of Extremadura, there is another very special city under the UNESCO designation — Caceres, a quaint historic town with cobblestone streets lined with stately homes, churches and palaces.
Another part of Spain not to be missed, is the southern region of Andalucía, South of Extremadura. This land embodies the colourful iconic images of flamenco. But this region is also a distinctive land with an immense historic and artistic legacy, full of geographical contrasts.
Some of the highlights include mild temperatures year-round; craggy mountains suited for winter sports practice; protected national parks; which are great for hiking; preserved castles and stately homes, open to visitors as lodgings; many UNESCO sites and a varied gastronomy. Seville, Granada, Cordoba, Malaga (and its famous coastal stretch called Costa del Sol) are just a few destinations worth visiting in Andalucía.
One should also include northern Spain, referred to as "Green Spain," for its spectacular regions of Galicia, Asturias, Cantabria and the Basque Country. This area boasts some of the best-preserved nature parks and ecosystems in Europe, which feature contrasting landscapes, rivers and endless green valleys. This northern stretch also houses the most important remains of our Iberian Peninsula (comprising Spain, Portugal and Andorra) prehistoric art, including primitive hill-forts and cave paintings such as those in the Altamira Caves in Cantabria. These paintings have been called "the Sistine Chapel of Paleolithic Art."
It is also in northern Spain that we find the Way of St. James (called "Camino de Santiago"), an important medieval communications route followed (then and now) by pilgrims wishing to visit St. James Cathedral, located in Santiago de Compostela, also a UNESCO World Heritage city.
You can start the Camino either in Roncesvalles (Navarra) or in Jaca, province of Aragón, in the Spanish Pyrenees (where you can also find some excellent ski resorts). From both locations, the Camino will take you to Logroño, capital of La Rioja (famous worldwide because of its wines, but with a historic legacy also of the highest quality), and then through Castilla y León before ending in Galicia. It comprises not only an enormous artistic and religious heritage with its cathedrals, monasteries and pilgrimage hospitals, but also exceptional samples of civil architecture, with palaces and ancestral homes all along the way.
Moving to the east, we reach the appealing Mediterranean coast with the famous Costa del Sol, but also with the Murcia coast, boasting some of the most beautiful beaches of the area, as does its northern neighbour, Alicante. If you are in the area, you need to visit Valencia, a must for its splendid historic buildings as well as for its modern innovative architecture, which includes the breathtaking City of Arts and Sciences, a monumental compound built by one of the most outstanding architects in the world, Santiago Calatrava.
And since you are in Valencia, you may hop over to the unique Balearic Islands. These five Mediterranean jewels include the popular Mallorca, Menorca and Ibiza. They offer a variety of experiences, from relaxing in secluded clear water coves (Menorca) to visiting a World Heritage city (Ibiza), to biking through quaint towns and natural parks (Mallorca). The possibilities are endless.
Spain has another island region, the Canary Islands, located in the Atlantic Ocean. This archipelago comprises seven islands, the four biggest being Gran Canaria, Tenerife, Fuerteventura and Lanzarote. These islands are blessed with vast sandy beaches full of bays and reefs and each offers very distinctive landscapes. From greyish moon-like scenery in Lanzarote to white dunes ecosystem in Fuerteventura, they are all bathed in a warm spring-like temperature all year round, almost guaranteeing a lovely holiday in the sun.
With so much to see, one might wonder about the best way to visit different destinations. It's easy to move around, thanks to the vast infrastructure network. There are plenty of flight connections offered by multiple local and international air carriers, with many low-cost carriers offering flights at very competitive prices. Air Canada and Air Transat offer direct seasonal flights from Canada to various cities in Spain.
Land transportation within Spain is also easy, thanks to a complete highway system that eases the driving experience around the country and also enables convenient bus connections among all the provinces.
The train is also highly reliable and links all main cities in Spain. The major cities are not only accessible by regular train, but also by high-speed trains (the AVE train network). As an example, Barcelona and Madrid, which are located 625 kilometres from each other, are connected by the AVE train in little more than two and a half hours. This high-speed train network currently connects Madrid with many main cities on the Mediterranean coast and southern Spain (including Barcelona, Valencia and Malaga, among others), and it is currently being expanded to link Madrid with several cities in northern Spain.
Although I have tried to provide a handful of possibilities, I am well aware that I have left out many wonders. It is hard to describe the immense possibilities and variety that Spain has to offer in a limited space. I would be very pleased if I have awakened the curiosity of readers to go to Spain and to explore their dreams in my country.
For more information, please contact the Embassy of Spain Tourism Section, 2 Bloor Street West, Suite 3402, Toronto, M4W 3E2, (416) 961-3131, www.spain.info/ca.
Carlos Gómez-Múgica is ambassador of Spain. Reach him at emb.ottawa@maec.es or (613) 747-2252 ext. 223.
Category: Diplomatica