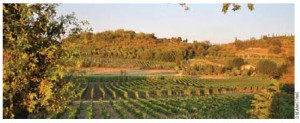 For most of us, the mere mention of Tuscany easily stirs up romantic imagery. We see the rolling hills. We feel the warmth of the Mediterranean sun. We walk the narrow streets of ancient fortified towns. However, besides inspiring daydreams, the true power of Tuscany is its strong sense of authenticity. This is particularly seductive to wine drinkers. Few other wine-producing areas, even elsewhere in Europe and other parts of Italy, can bring such an influence to bear on wine drinkers.
Much of our awareness of Tuscan wines exists due to the reputations of such traditional wine appellations as Chianti, Brunello di Montalcino and Vino Nobile di Montepulciano. However, the last two decades have seen more and more wines created outside the parameters of the more classical categories. As we explore them, we get to experience the serious and exciting shift taking place in the identity of Tuscan wines.
Thanks to a wine history reaching back thousands of years, wine is deeply entrenched in the Italian identity and, as such, production literally covers the whole country. Much of the structure of Italy's modern wine identity results from wine laws enacted in 1963. These laws quantified the wine-making traditions, which created and defined Italy's classic wines. Every aspect of viticulture and viniculture was regulated, including permitted grape varietals, how they were converted to wine and how the wine was aged. The same wine laws established the Denominazione di Origine Controllata (Denomination of Controlled Origin) or DOC classification of wine, and the even more stringent wine designation Denominazione di Origine Controllata e Garantita (Denomination of Controlled and Guaranteed Origin) or DOCG. Wines bearing these appellations must be the result of approved cultivation methods while yields, alcohol content and aging all have to be within specified parameters.
In the 1970s, wine producers, especially those in Tuscany's Chianti region, saw the status quo as too restrictive, and they grew restless. Limitations, particularly involving grape-blending restrictions, helped spur the birth of wines made outside the scope of regulations. Made either solely of Sangiovese (a then-forbidden proposal for Chianti) or including international grape varietals such as Merlot, Cabernet Sauvignon and Syrah, these wines had to be classified as Vino da Tavola (table wine), the lowest and most base category of wine in Italy. However, because of their production quality and popularity, the prices of these wines soon rose above their esteemed regulation-laden brethren. By the 1980s, this "Super-Tuscan" movement was well-established, and a change had begun in the appreciation of Italian and Tuscan wines.
This shift was so profound that, in 1992, a new wine classification was created to allow for these Vino da Tavola wines to be considered more legitimate. This new category was Indicazione Geografica Tipica (typical geographic indication) or IGT. Falling between Vino da Tavola and DOC, IGT was intended to provide an outlet for the existing wines and allow for a continuing movement of experimentation.
Over the past 20 years, many excellent examples of IGTs have appeared in Canada and their numbers continue to increase, particularly at an entry-level price. Various factors of late have played a part in this: a weakened Euro, lessened demand in other markets due to economic difficulties, and even the lower cost of having wines classified as IGT versus DOC or DOCG. The greater variety and choice of Tuscan IGTs has been a boon to the Ontario wine drinker.
An excellent starting point to explore IGT wines is the 2009 Vignemastre Dardo. This great wine speaks clearly and strongly about both varietal character and point of origin. As such, Dardo is fermented in stainless steel and sees no oak aging. Composed of 85 percent Sangiovese, 10 percent Syrah and 5 percent Merlot, this wine has an exuberant and fresh character with flavours of red berry, leather and anise. It's tremendous value for $16.89 a bottle and is available in Ontario from the Le Sommelier wine agency (www.lesommelier.com).
Another interesting IGT is Tenuta di Ghizzano's 2009 "Veneroso." The winery is passionate about their organic practices and strives to maintain harmony with the nature. The 2009 Veneroso has a huge expression of plum and berry and amazing weight and balance. It will benefit from a little time in the cellar. You can find it at the LCBO for $29.95.
Tua Rita is a fantastic, family-run winery that focuses on IGT wines. Their wines have received extensive accolades — their 2000 Redigaffi was the first Italian wine to receive 100 points from critic Robert Parker. Currently, one of their most captivating wines is the 2010 Perlato del Bosco.
Consisting of 60 percent Sangiovese and 40 percent Cabernet Sauvignon, it is dense but beautifully textured with generous dark fruit and aspects of leather, smoke and anise. While certainly capable of aging, it is very delicious now. The 2010 Perlato del Bosco is available in Ontario for $45.75 through The Small Winemakers Collection consignment agency (www.smallwinemakers.ca).
Pieter Van den Weghe is sommelier at Beckta dining & wine.
Category: Delights