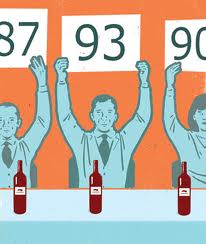 As with any purchase, many factors can impact the decisions of a wine buyer. For some, it's the attractiveness of a label, the variety of choice or even their own cultural bias. Complicating matters for many is the perception that, to purchase a delicious wine, one needs a stupefying amount of knowledge. What is seen as the pretentiousness of wine culture implies a strong and intimidating hold on its secrets. For would-be wine consumers, this often sadly leads to a hesitancy and reluctance to dive in, experiment and try new things.
Though not a new invention, wine scores, hold the promise of allowing wine buyers to easily and quickly ascertain what is a high-quality wine for a price they are willing (or can be convinced) to pay. Besides the written commentary of a review, wine scores, particularly those given on a 100-point scale are hugely influential on those who produce wine and those who sell it. Wine critics have significantly changed the very landscape of the wine market by altering not only the favoured expressions of wine, but the style, price and intent of wines. As a result, the power of publications that carry these reviews and of the individual wine critics has grown tremendously. Deserved or not, Robert Parker is so influential, his name is synonymous with a style of wine. Many, particularly his detractors, feel that a dense, extracted wine with a soft mouth-feel, low acid, hefty alcohol and generous flavours of oak is "Parkerized."
Despite the success of the 100-point system in wine media, reviewers themselves admit scores cannot reveal every aspect of a wine and that the wine's true personality and traits are better illuminated through the written review. That said, the appeal of a single number to gauge the potential value of a wine is obvious. A bottle on the shelf in a wine shop that has a large 90 next to it will almost always grab the attention of a consumer better than a lengthy text extolling its virtues.
And what of the wine that's rated 89? Is it that significantly different? Or, is the wine boasting a rating of 100 worth its often-significant price? Whether a wine is rated on a 100-point scale by Robert Parker, James Halliday, Stephen Tanzer, Allen Meadows or anybody from The Wine Spectator magazine, only wine drinkers can decide for themselves if a wine is plonk or biblically profound. The same goes for wines scored out of 20 by Jancis Robinson, out of 5 by Decanter magazine or three "bicchieri" by Gambero Rosso. Only an individual wine drinker can decide whether a wine is worth the money because wine tasting is completely subjective. While much can be agreed upon, there is no substitution for one's personal opinion about a wine. Certainly, few wine drinkers, even committed ones, have either the time or the resources to taste and research wine on the same level as a professional reviewer. Wine drinkers should read the reviews of the wine they drink and see if the opinions make sense to them. Eventually, they'll find a critic whose tastes and views are similar enough to their own that they can trust their evaluations. Scores may be quick, but they are not the whole story of a wine.
A few tasty and well-reviewed wines at Vintages can be a good starting point to see if reviews ring true for your palette.
First, we have Catena's 2011 Chardonnay from Argentina's Mendoza region. Neal Martin gave it a score of 90 and found it to be "a taut, focused Chardonnay" that "is well-crafted and complex for its price point." It's available for $19.95.
Also costing $19.95 is Rolf Binder's 2010 Hales Shiraz from South Australia's Barossa Valley. Lisa Perrotti-Brown reviewed it as a wine with "a core of ripe black plums and black cherries overnotes of licorice, tar and dark chocolate plus a whiff of cloves." She also gave it a score of 90+.
Manzone's 2007 "Le Gramolere" Barolo scored a 93+ from Antonio Galloni. He felt the wine "shows gorgeous translucence, plenty of aromatic delineation and fine balance" and "is highly attractive." The most expensive of the trio, this Barolo costs $51.95.
Pieter Van den Weghe is wine director at Beckta dining & wine.
Category: Delights