When pro-Russian insurgents in eastern Ukraine were almost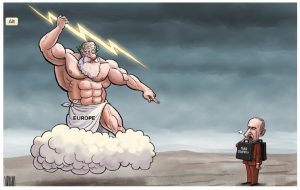 defeated in late August by Ukraine's military, President Vladimir Putin sent thousands of Russian soldiers into Ukraine to turn the tide. He has now offered a ceasefire to Kiev, presumably because the tougher sanctions the West is now imposing are biting and because of the billions of dollars a stressed Russian economy would need to hold and assist an occupied eastern Ukraine.
In September, Tomasz Sakiewicz, editor of the Gazeta Polska newspaper in Warsaw, spoke to a Parliament Hill rally of Canadians, most of whom had East-Central European heritage. Among the points he made:
Daily, people are being killed in Ukraine because of Russia's open aggression against the nation that wants to be independent.
In 2008, Russian tanks rolled into Georgia, intending to overthrow the government and occupy the entire country. Only part was seized because of international action, mainly due to decisive steps by five Central European leaders brought to Tbilisi by then-Polish president Lech Kaczynski.
Their capacity to stop Mr. Putin rose from the co-operation of 100 million people from diverse cultures who have respect for their traditions and the ability to unite against an invader.
When he flew to Smolensk, Russia, in April 2010, Mr. Kaczynski and 100 Polish representatives hoped to honour the memory of thousands of Polish officers killed by Stalin in the Katyn Massacre in 1940. Some researchers and intelligence analysts surmise that the crash of the plane might have been caused by an explosive. Russians confiscated the black boxes and the wreckage of the aircraft. It reminds us of the recent tragedy in which nearly 300 civilians were killed aboard Malaysian aircraft M17, believed by many to have crashed after being attacked by Russian terrorists in Ukraine.
"Today," added Mr. Sakiewicz, "we cannot wait any longer. We have to stop Russian imperialism before the war spreads to other countries. Russia must be completely isolated from the world until it ceases its aggression. Ukraine must be provided with major financial and military help so that they will be able to protect all of us against another global tragedy."
Despite setbacks, in virtually all East-Central European countries, life appears to be significantly better now than in 1989. The EU, with 28 member countries, a population of 503 million and prospects for further enlargement, continues to be a beacon for many across the world.
Ukraine
Few North Americans capture what is going on in Ukraine as well as Timothy Snyder, the history professor at Yale and author of Bloodlands: Europe Between Hitler and Stalin. In a recent column entitled To understand Putin, Read (George) Orwell, he wrote:
"Russian propaganda daily pounds out two sides to every story, both of which are false, and each contradicts the other. Consider the propositions in italics below, which should by now, after eight months of repetition, sound familiar…(For example) Russia is making war to save the world from fascism. (In fact, it is Russia where the far right exerts dictatorial power, the head of state enunciates a Hitlerian doctrine of invading another country to protect ethnic brethren. Russia's political allies are Europe's far right parties, including the fascists and neo-Nazis.) Meanwhile: fascism is good. (In Russia, Hitler is now being rehabilitated as a statesman, the Jews are being blamed for the Holocaust, gays are presented as an international conspiracy, Russian Nazis march on May Day and Russian Nazis in Ukraine are presented as heroes)."
I share the conclusion to Mr. Snyder's piece as well: "Oppression in Russia, war in Ukraine and the destabilisation of the West are grotesquely high prices to pay for (Putin's) preferences… We had better think instead about what we value and what we can do to protect it. If Ukraine becomes Novorossiya, Europe becomes Eurasia, and the West collapses, it will not be because of Russia's physical strength, but because of our mental weakness."
NATO
Before the NATO summit in Wales, statements by its officials that NATO will defend the three Baltic member states, but not non-member Ukraine, were short-sighted. Stephen Blank, the American Foreign Policy Council's senior fellow for Russia, noted in the Globe and Mail:
Throwing Ukraine figuratively under the bus before the summit was unlikely to encourage other neighbours of Russia, whether or not they are NATO members.
Such talk appeared to concede Putin's right to ignore a host of international treaties, to re-establish Cold War spheres of influence and to attack any or all of his neighbours whenever he can fabricate an excuse for doing so.
The U.S. and UK have done little or nothing to enforce guarantees given to Ukraine in 1994 and letting Ukraine go would indicate to others that our guarantees are worthless if/when the crunch comes.
Mr. Blank is correct that Ukraine deserves NATO support in the form of weapons, advisers and training. More U.S. and EU financial and political support are also essential. As he says, "NATO was created precisely to thwart actions such as Russia's current invasion (of Ukraine)."
President Dalia Grybavskaite of Lithuania said: "Ukraine is being attacked because of its European choice. It is not only defending its territory, but also Europe and its values."
Canada
Canada is among the strongest international supporters of Ukrainian efforts to restore stability and implement democratic and economic reforms. Prime Minister Stephen Harper and Foreign Minister John Baird continue to call on Mr. Putin to follow through on his commitments to de-escalate the crisis and call off his provocateurs.
Ottawa is supporting Ukrainians as they restore political and economic stability, including imposing sanctions on those responsible for the ongoing crisis. Our government has also taken steps to enhance the readiness of NATO through a number of measures including:
Deploying six CF-18 fighter jets, along with 200 support staff, to Romania to train with NATO allies;
Sending 20 CAF operational planners to NATO's headquarters in Belgium;
Retasking HMCS Regina to join Standing NATO Maritime Group One in the Eastern Mediterranean;
Sending members of the CAF to Operation Open Spirit in Latvia in May;
Deploying 50 Canadian soldiers to Poland to conduct training in airborne operations and infantry skills.
Containing Putin
Mr. Putin must be persuaded by "smart" and progressively tighter sanctions and by NATO to end all support for the rebels in eastern Ukraine. He must come to see that a collaborative engagement with the larger European community is necessary if Russia is not to be completely isolated by its European neighbours and other democracies.
Given that huge sums continue to be withdrawn from Russia by investors, including as much as $70 billion in the first quarter of 2014 alone, and that the ruble has just hit a new low, Mr. Putin might begin to accept that international harmony is necessary if the Russian economy is to improve the difficult lives of many of its citizens.
The main conclusion, however, is that betraying Ukraine and Ukrainians will bring neither peace nor security now or in the future.
Former Edmonton MP David Kilgour and David Matas were banned from Russia in 2011 for their book, Bloody Harvest, which deals with organ pillaging and trafficking from Falun Gong practitioners across China since 2001. They were nominated for the Nobel Peace Prize in 2010 for their efforts to stop it.
www.david-kilgour.com
Category: Diplomatica