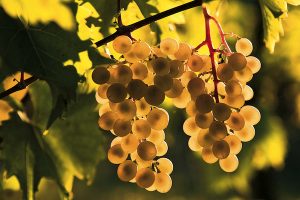 A dog-eared book, an old sweater, or, even a glass of wine poured more out of habit than pleasure are all familiar things. Unfortunately, while familiarity is certainly comforting and reassuring, it rarely exceeds expectations.
The prevalence of certain too-familiar wine grapes and their common styles can send palates running in the direction of something new and different. It was just such a drive that brought Viognier back from near extinction in the '60s to being the world-famous grape it is today.
Much of the appeal of Viognier is its unabashed personality. It leaps from the glass unlike any other grape varietal. Robustly aromatic, with the scent of flowers such as jasmine, honeysuckle and lilies, it is a luxurious, rich white wine. On the palate, flavours of stone fruit, such as apricot and peach, typically dominate, though tropical and citrus fruits, ginger and spices can also play a role.
The key to a truly delicious and memorable Viognier is acidity. The grape is naturally low in it, so effort and skill from the vineyard to the winery are required to produce a wine that has the structure to be truly compelling.
Once thought to have been introduced to France from the Dalmation Coast of Croatia by Roman Emperor Marcus Aurelius, Viognier actually originated around the wine regions of Condrieu and Ampuis in the northern Rhône.
Modern DNA parentage analysis has also shown that Viognier is either a half-sibling or a grandparent of Syrah, and is also related to Nebbiolo.
By 1968, French grape growers had grown so weary of Viognier's low yields and tendency for poor grape development, there were only 14 hectares of Viognier planted in all of France. Most of these plantings were located in what is still considered the zenith of Viognier: Condrieu.
Over the years, the grape's distinctive characteristics, so unlike Chardonnay, Sauvignon Blanc and Riesling, slowly started to catch on with wine drinkers around the world.
By the 1980s, growers throughout France's Languedoc, the U.S. and Australia began growing grapes of significant quality. Soon, excellent expressions of Viognier were being produced all around the world. Back home in France, by 2009, Viognier plantings reached 43,895 hectares.
Besides being produced as a single varietal, many impressive wines are the result of blending Viognier with other white varietals. This is frequently done with Rhône varietals such as Rousanne and Marsanne. These blends are not only appearing from within the Rhône, but from New World areas such as California and Australia.
Another French tradition from northern Rhône that caught on, particularly in Australia, is co-fermenting a small amount of Viognier (about 5 percent) with Syrah when making red wine. The inclusion of the Viognier intensifies the colour of the Syrah, provides a richer mouthfeel and makes the nose of the wine more complex.
For a delicious Ontario Viognier, look no further than the 2012 vintage from Nyarai Cellars. Coming from a warm year that allows for an expressive wine, the nose smells strongly of orange blossom and sweet lemon.
On the palate, it stays elegant despite the generous flavours of peach and ripe tropical fruit. This great wine is available for $22 from either Vintages or directly from the winery.
A great example of a Viognier from its place of origin is Jean-Luc Colombo's 2011 "Amour de Dieu" Condrieu. Despite its rich and creamy mouthfeel, the wine remains finely tuned and fresh. Flavours of stone fruit combine with ripe tree fruit and lead into a long, delicious finish. This Condrieu can be purchased in store or online from the SAQ for $65.
Pieter Van den Weghe is the sommelier at Beckta dining & wine.
Category: Delights