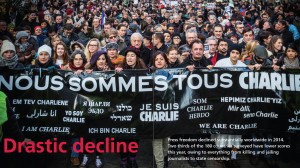 The Reporters Without Borders World Press Freedom Index ranks the performance of 180 countries according to a range of criteria that include media pluralism and independence, respect for the safety and freedom of journalists, and the legislative, institutional and infrastructural environment in which the media operate.
Top of the list, as so often, are three Scandinavian countries: Finland, which has been in first place for five years in succession, followed by Norway and Denmark. At the other end of the scale, Turkmenistan, North Korea and Eritrea, in last place, were the worst performers. France is ranked 38th (up one place), the United States 49th (down three places), Japan 61st (down two places), Brazil 99th (up 12 places), Russia 152nd (down four places), Iran 173rd (unchanged) and China 176th (down one place).
The 2015 World Press Freedom Index highlights the worldwide deterioration in freedom of information in 2014. Beset by wars, the growing threat from non-state operatives, violence during demonstrations and the economic crisis, media freedom is in retreat on all five continents.
The indicators compiled by Reporters Without Borders are incontestable. There was a drastic decline in freedom of information in 2014. Two-thirds of the 180 countries surveyed for the 2015 World Press Freedom Index performed less well than in the previous year. The annual global indicator, which measures the overall level of violations of freedom of information in 180 countries year by year, has risen to 3,719, an 8-percent increase over 2014 and almost 10 percent compared with 2013. The decline affected all continents.
The European Union-Balkans region is in the lead by far, but nonetheless recorded the biggest fall between the 2014 and 2015 editions. This disturbing trend reflects a two-fold phenomenon: the excesses of some member countries on the one hand and the inability of EU mechanisms to contain them on the other. The region that is bottom of the freedom of information list, North Africa and the Middle East, this year once again contained information "black holes." Comprising entire regions, these are controlled by non-state groups in which independent information simply does not exist.
The most striking developments for 2015
The fallers
Andorra (32nd), the sharpest fall, has paid the price for the lack of independence of its media from financial, political and religious interests. It fell by 27 places as a result of many conflicts of interest and the great difficulty experienced by journalists in covering the activities of Andorran banks, coupled with the lack of any legal protection for freedom of information, such as the confidentiality of journalists' sources.
In Asia, East Timor (103rd) fell by 26 places. The creation of a press council and the adoption of a code of ethics in October 2013 have been a disappointment. In 2014, the government proposed a tough new media law, which has led to widespread self-censorship.
In sub-Saharan Africa, Congo (107th) fell 25 places after a difficult year for independent news outlets. The government stepped up its witch-hunt of critical journalists, at times resorting to extreme violence. Journalists who refuse to keep quiet are forced to flee the country or are expelled.
Western Europe saw numerous countries in decline. Italy (73rd) fell 24 places after a difficult year for journalists for whom threats from the Mafia, among others, and unjustified defamation suits, skyrocketed. Iceland (21st, down 13) paid the price of worsening relations between politicians and media. The drop was an alarm call for this "model of democracy."
In South America, Venezuela (137th) fell 20 places. The National Bolivarian Guard (national army) opened fire on journalists during demonstrations, although they were clearly identified as such. In Ecuador (108th, down 13), the promising Organic Law on Communication soon revealed its limitations. Forced corrections became a means of institutional censorship.
Journalists working in Libya (154th, down 17 places) have lived through a chaotic period since the fall of
Moammar Gadhafi, during which Reporters Without Borders recorded seven murders and 37 kidnappings of journalists. Faced with such violence, more than 40 people working in the media decided to leave the country in 2014. Reporting on the activities of the militias that have carved up the country is an act of heroism.
In South Sudan (125th, down six  places), gripped by civil war, the radical polarization and constant harassment of news organizations caused it to fall down the rankings. Press freedom was suspended "because of civil war," as a Reporters Without Borders headline said in July last year on the third anniversary of the country's birth.
Pressure on independent media continued to intensify in Russia (152nd, down four), with another string of draconian laws, website blocking and independent news outlets either brought under control or throttled out of existence. The repressive climate encouraged some local despots to step up their persecution of critics.
In the Caucasus, Azerbaijan (162nd, down 2) suffered an unprecedented crackdown on critics and registered the biggest fall in score among the index's 25 lowest-ranking countries. With media freedom already limited by one-sided regulation and control of the advertising market, the few remaining independent publications were either collapsing under the impact of astronomical damages awards or were simply closed by the police. The number of journalists and bloggers who were jailed turned Azerbaijan into Europe's biggest prison for news providers.
In the Americas, the United States (49th, down three places) continues its decline. In 2014, New York Times journalist James Risen came under government pressure to reveal his sources. Although the Obama administration backed away in that case, it continues its war on information in others, such as WikiLeaks.
The risers
There are few of these. Mongolia (54th) rose 34 places, the Index's biggest jump. It had few violations in 2014, while the benefits of legislation on access to information began to be seen. Problems remain, however, including on the legislative front, but there has been a clear improvement.
Tonga (44th), which held its first democratic elections in 2010, strengthened its position thanks to an independent press, which has established its role as a counter-weight to the government. The Polynesian nation has risen an enviable 19 places.
The long-running political crisis in Madagascar (64th) came to an end with the election of Hery Rajaonarimampianina as president in January 2014 and the departure of the information minister. This democratic transition eased the previous polarization and boosted the country by 17 places. Yet some subjects remain taboo, such as the financial monopolies in the hands of leading political figures.
In Europe, Georgia (69th, up 15) continued to rise for the third year running and is now close to where it was before the 2008 war. It is enjoying the fruits of reforms undertaken after a change of government through elections, but it continued to be handicapped by the extreme polarization of its news media.
In 86th place, Ivory Coast (up 15 places) continued to emerge from the political and social crisis that plunged the country into full-scale civil war in 2010. The results are still mixed in a country where the broadcasting sector is expected to be opened up in 2015, although there are some fears that this might usher in institutional censorship.
Nepal (105th) was up 15 places thanks to a drop in violence by the security forces against journalists, especially at demonstrations. This improvement remains to be confirmed in 2015.
Tunisia (126th) rose seven places, a relative increase although, in absolute terms, the country stagnated. However, the fact remains that political stabilization in 2014 had benefits for news and information. On the other hand, the number of attacks on journalists remains too high and the implementation of measures to ensure freedom of information has been long in coming.
A cause for satisfaction was Brazil (99th, up 12 places), which rose above the symbolic 100 mark thanks to a less violent year in which two journalists were killed compared with five in the previous year.
Still in the Americas, Mexico (148th) managed to pull itself up four places. In November, which is not included in the 2015 Index, journalists were attacked during demonstrations about the disappearance of 43 trainee teachers in the southwestern state of Guerrero. Reporters Without Borders recorded three cases in Mexico of journalists killed as a direct result of their work, compared with two in 2013.
Regimes seeking ever more information control
You might have thought that the world's most despotic and closed states would be satisfied with keeping news and information under control. Instead, they have continued to reinforce and improve their methods of censorship and repression. Despite apparently stagnating at the bottom of the press freedom index, 15 of the 20 worst-ranked countries have actually seen their scores fall in the past year. How do they manage to keep getting worse?
Reinforcing news monopolies
In North Korea (179th), Eritrea (180th), Turkmenistan (178th) and Uzbekistan (166th), the government's absolute control of news and information is challenged by just a handful of reporters, who risk everything to pass snippets of information to media based abroad. Although relatively rare, such "information black holes" seem to be a model that many other governments would like to copy.
In Djibouti (170th), the employees of the only independent news outlet, La Voix de Djibouti, are systematically hounded. In Equatorial Guinea (167th), the few privately owned newspapers are nowadays published only sporadically. In Sudan (174th), 2014 was marked by arbitrary arrests of journalists and the seizures of around 50 newspaper issues, even issues of pro-government newspapers.
Not content with such draconian measures, the Sudanese government has introduced prior censorship, creating a special commission under the information ministry's supervision with the job of examining all proposed articles about corruption to decide whether or not they can be published.
Prior censorship is also back in Kazakhstan (160th), where it takes effect for all the media in cases of riots, strikes or major demonstrations. After banning all the main opposition media two years ago, the Kazakh authorities seemed bent on preventing any re-emergence in 2014, closing three new newspapers critical of the government one by one within months of their launch.
Azerbaijan (162nd) has also managed to eliminate almost all traces of pluralism, forcing the few remaining independent newspapers to close one by one by throttling their sources of income, prosecuting them on trumped-up charges and hounding their employees. In China (176th), the Communist Party has published a new list of prohibitions that include a ban on journalists making "unauthorized criticisms."
Reining in the Internet
With complete control of the traditional media assured, reining in the Internet is the next big task. Initially unprepared for dealing with the Internet, an excellent tool for circumventing censorship, the most despotic regimes are now quickly making up for lost time and, with the help of surveillance technology sold by leading western companies, are realizing all of the Internet's potential for state control.
Thanks to its "Great Firewall," China continues to be one of the pioneers of online censorship. Hong Kong's "Occupy Central" pro-democracy movement and commemoration of the 25th anniversary of the Tiananmen Square massacre were the targets of skilfully orchestrated information blackouts. All terms relating to the anniversary were censored on search engines at the start of June and micro-blogging sites were regularly "cleaned." All Google services including Gmail were subjected to massive blocking to a level of around 90 percent.
Despite technical difficulties and a certain reluctance due to the economic benefits expected from the digital sector, Iran (173rd) has not abandoned the idea of creating a "national Internet." And the Islamic Republic's cyber-police showed it had access to messages exchanged on certain mobile apps when it arrested 12 people in connection with their messaging on WhatsApp, Viber and Tango.
Although the ALBA-1 fibre-optic cable linking Cuba (169th) to Venezuela (137th) is now operational, Internet access in Cuba is still very limited and the cost is prohibitive. The Internet continues to be closely controlled and independent news sites based abroad are still inaccessible except in a few hotels for foreign tourists.
Blocking websites without a court order is becoming routine in many countries, and most cyber-police forces now know how to block sites that change their IP addresses and sites that offer censorship circumvention tools such as Virtual Private Network software. After cracking down in an arbitrary manner, most authoritarian regimes are now legislating with a vengeance in order to impose ever-tighter legal constraints on online activity.
In Kazakhstan, the government has given itself the power to disconnect any network or means of communication whenever it feels the need. Following Russia's example, the Uzbek authorities have imposed draconian criminal constraints on bloggers, while the Belarusian authorities have given the information ministry control over social networks and micro-
blogging platforms. "Cyber-crime" charges are often used in Saudi Arabia (164th) and Bahrain (163rd) to pass long jail sentences on netizens who criticize the authorities.
A readiness to legislate does not stop the most repressive regimes from acting outside the law to wage a cyber-war. Uznews, a leading news site in Uzbekistan (166th), had to cease operating after hackers broke into the editor's email account and posted documents online that put its network of correspondents in danger. Independent news sites such as 64 Tianwang in China and Nuba Reports in Sudan are often the victims of cyber-attacks. The North Korean regime is said to have doubled the size of its army of hackers in the space of two years.
Jailing all outspoken dissidents
Highly repressive regimes feel obliged to imprison the few leading dissidents still at large. In China, for example, the famous journalist Gao Yu, the cyber-dissident Xu Zhiyong and the leading Uyghur blogger Ilham Tohti joined the hundred or so other news and information providers already in detention.
The imprisonment of Khadija Ismayilova, one of the pioneers of investigative journalism in Azerbaijan (162nd), showed that Ilham Aliyev's autocratic regime has reached the point of no return. Arbitrary arrests, which drove dozens of journalists into exile in 2014, turned the country into Europe's biggest prison for news providers. Arrests of citizen-journalists and bloggers continued in Vietnam (175th), Bahrain and Saudi Arabia.
In Iran, China and Eritrea, the world's biggest prisons for journalists and bloggers, why they are arrested and where they are being held often remain unknown. Many detainees are ill and are denied treatment in Iran's jails. Held in an unknown location on unclear charges and subjected to long spells in solitary, Jason Rezaian has lost around 30 kilograms since his arrest in July.
Dawit Isaac and most of the other journalists detained in Eritrea have never been tried. Instead of cells, they are sometimes locked up in shipping containers in the middle of the desert in which the overcrowding and lack of hygiene are appalling. Islamic State's atrocities should not make us forget that at least 30 journalists and netizens languish in Syrian (177th) government jails where torture is systematic. They include Mazen Darwish, the winner of the Reporters Without Borders Press Freedom Prize in 2012, now in his fourth year in detention.
Criminal violence by police
Police violence is very worrying in Vietnam. Independent journalist Truong Minh Duc was still in an intensive care unit three weeks after being attacked by eight police officers on Nov. 2.
Extreme violence is one of the methods used against critical journalists and bloggers in Azerbaijan. Ilgar Nasibov, one of the few independent journalists and human rights defenders in Azerbaijan's Nakhchivan Autonomous Republic, was the target of a brutal attack while working in his office on Aug. 21. In Vietnam and Azerbaijan, the police increasingly use criminal thugs to do their dirty work and sometimes co-ordinate operations with them.
In Iran, dozens of detainees, including journalists and bloggers, were badly beaten and placed in solitary confinement when they objected to a major search operation that was being conducted in an irregular manner in Section 350 of Tehran's Evin prison.
Stopping at nothing, archaic or
sophisticated
Repression is happy to take medieval forms in Saudi Arabia and Iran. Raif Badawi, one of the founders of an online discussion group called the Liberal Saudi Network and winner of the Reporters Without Borders Press Freedom Prize in 2014, was sentenced to 10 years in prison and 1,000 lashes for suggesting that the Saudi authorities should respect fundamental freedoms.
Flogging is just as common in the Islamic Republic of Iran, where more than 50 journalists and netizens have been subjected to this form of punishment in the past five years. The latest victims include photojournalists Khalil Emami and Abass Alipour, who were sentenced to 25 and 50 lashes respectively in August at the request of a local official they had criticized. In China, TV stations are broadcasting forced "confessions" again. Following Chen Yongzhou in November 2013, independent journalists Gao Yu and Xiang Nanfu were forced to make televised "self-criticisms" in May 2014.
In Sri Lanka (165th), hundreds of soldiers surrounded the newspaper Uthayan on May 18, when it published a supplement to mark the army's massacre of Tamil civilians in 2009. The newspaper Thinakkural was also surrounded. Sri Lanka's government also attacks the foundations of journalism by systematically obstructing the activities of NGOs that support the media. The Azerbaijani authorities went one step further this past summer, completely disbanding the main media-supporting NGOs.
Blasphemy: political use of religious censorship
While 2014 saw a fall in the number of journalists being arrested or convicted for covering religious issues, more and more countries are using prohibitions on blasphemy and sacrilege to censor political criticism. Some leaders go so far as to use these prohibitions to pass laws banning any criticism of themselves or their political actions.
In nearly half of the world's countries, journalists and bloggers constantly face censorship in the name of religions, prophets or God. If an article involving religion is deemed to be "insulting" or a violation of "moral standards," the consequences can be dramatic for the author. In countries where laws are so severe that they may even include the death penalty, news and information providers have had to censor themselves for years.
Sometimes journalists have less to fear from the law than from their more radical compatriots, who may be ready to resort to violence to "render justice" to their religion. The permanent danger hanging over those who cover religious issues has increased the need to alert the international community about the criminalization of certain opinions and the prohibitions on blasphemy, "defamation of religion" and "offending religious feelings" that such bodies as the Organization of Islamic Conference are promoting.
Heavy sentences
The countries that are most intransigent about blasphemy, including Saudi Arabia (164th) and Iran (173rd) continued to crack down harshly on outspoken journalists and bloggers in 2014. As mentioned, Raif Badawi was sentenced on May 7 to 10 years in prison, 1,000 lashes and a fine of one million riyals (230,000 euros).
Badawi was accused of creating and moderating a website that insulted religion and religious officials, including the committee for the promotion of virtue and prevention of vice, and violated Sharia's basic rules. Despite an international outcry, he was publicly flogged on Jan. 9, in what was scheduled to be the first of 20 sessions of 50 lashes.
Mohammed Al-Ajmi, a human rights activist and blogger from Kuwait (90th) known by the blog name of Abo3asam, was similarly arrested on a blasphemy charge on Aug. 27 in connection with a controversial tweet on Aug. 11 that accused members of the Salafist group Al-Jamiya of blindly following its religious leader, Hamad al-Uthman. It was not his first run-in with the authorities. He was previously accused in April of defaming Kuwait's emir, Sheikh Sabah al-Sabah, before finally being acquitted. And he was also briefly arrested on July 6.
In the Islamic Republic of Iran (173rd), one of the ways the regime punishes dissidents is to define political criticism of the country's leaders and Supreme Leader as sacrilege. A Tehran revolutionary court sentenced eight netizens on May 27 to a total of 123 years in prison on charges of anti-government propaganda, sacrilege and "insulting the Revolution's Supreme Leader."
A young Mauritanian blogger, Mohamed Cheikh Ould Mohamed, was sentenced to death on an apostasy charge on Dec. 27 for criticizing the inequality of the country's caste system. It was the first death sentence for apostasy in Mauritania (55th) since independence. In the offending article, posted on the Aqlame website, he said Mauritania's social order was as archaic as that prevailing in the Prophet Mohammed's time.
For this, he was accused of making "flippant references to the Prophet," "violating the divine order" and blasphemy. Apologizing for the post, the blogger denied that he had wanted to attack the Prophet or Islam and said he only wanted to defend the lowly "maalemine" (blacksmith) caste, to which he belongs. Now on death row, he hopes his sentence will be overturned on appeal.
Violence by "believers"
It is not just authoritarian governments that target journalists and bloggers. Some religious groups also issue violent threats and "sentences," which their members arbitrarily try to execute to the indifference of the authorities, whose sole concern is restoring order.
Under popular pressure, Jitendra Prasad Das, a sub-editor with the regional daily Samaj in Cuttack, in India's (136th) eastern state of Odisha, was arrested on a charge of offending religious feelings on Jan. 15, a day after Mohammed's birthday, when he published a picture of the Prophet accompanied by a short text. His arrest followed attacks on Samaj's offices in Cuttack and other cities in Odisha by members of the Muslim community, who smashed printers and computers in its Balasore office and torched its Rourkela office, although the newspaper published an apology.
In Bangladesh (146th), a previously unknown Islamist group calling itself Ansar al Islam Bangladesh (Defenders of Islam) posted a message online in November claiming three murders, including that of Rajib Haider, a blogger whose throat was cut in February 2013, and naming other future victims, including Asif Mohiuddin, a blogger who narrowly survived a January 2013 stabbing that the group also claimed. In his blog "Almighty only in name, but impotent in reality," Mohiuddin often expressed skepticism about religion and the teachings of Islam in particular.
Extending protection of religion in the law
Encouraged by widespread adoption of self-censorship in response to laws severely penalizing any attack on state religion, the authorities in some countries are trying to extend the scope of prohibitions by passing laws under which leaders are regarded as sacred and any criticism of them is therefore forbidden.
This is the case in Kuwait (90th), where the government has clamped down on coverage of the emir, Sabah al-Ahmed al-Jabir al-Sabah. After two citizen-journalists, Badr Al-Rashidi and Ourance Al-Rashidi, were convicted of insulting him in 2013, a draconian bill was unveiled with heavy fines for criticizing the emir or crown prince and sentences of up to 10 years in prison for "insulting God, the Prophets of Islam or the Prophet Mohamed's wives or companions." Although it was not adopted, Kuwaiti news providers have little freedom and the use of lèse-majesté charges acts as a major deterrent.
The same trend has been seen in some North African countries such as Tunisia (126th), where the National Constituent Assembly adopted a new constitution in January that enshrines freedom of information and guarantees respect for freedom of expression. Despite declaring Islam to be a "state religion," it recognizes the "freedom of belief and thought," making it impossible to criminalize apostasy. However, although sacrilege cannot be punished by imprisonment, an amendment declares the state to be the "guardian of religion" and "protector of the sacred" and "forbids attacks on what is sacred."
A "public morality" amendment that can restrict freedom of expression (article 49 of the Tunisian constitution) is also a source of concern. The judicial persecution of Jabeur Mejri, a blogger convicted in 2013 in connection with cartoons of the Prophet, shows why such concern is justified. As blasphemy is not a crime, he was charged with offending accepted standards of good behaviour, public decency and propriety. He is still being persecuted by the authorities, who have charged him with embezzlement to keep him in prison.
The same tendency was seen in the three media reform bills — on "press and publishing," the "status of professional journalists" and the "National Press Council" — that Morocco's communication ministry unveiled in November 2014. While a big improvement on the existing legislation, the reforms fail to dismantle the red lines forbidding criticism of Islam, the king and other members of the royal family, leaving Morocco (130th) in violation of article 19 of the International Covenant on Civil and Political Rights.
Article 19 says any restriction on freedom of expression must be the subject of a law and must be necessary for the purposes specified in paragraph three of the article, which include "protection of national security or of public order, or of public health or morals." In other words, the authorities must demonstrate that the "restricted" information threatens national security or satisfies one of the other criteria specified in the covenant.
In its general comment No. 34 on the covenant, the UN Human Rights Committee said that any restriction "must be proportionate to the interest to be protected." It also said: "Prohibitions of displays of lack of respect for a religion or other belief system, including blasphemy laws, are incompatible with the covenant except in the specific circumstances envisaged in article 20." These are war propaganda and "advocacy of national, racial or religious hatred that constitutes incitement to discrimination, hostility or violence."
Excerpted with permission from Reporters Without Borders' 2015 World Press Freedom Index. Visit http://en.rsf.org/ to read more about Reporters Without Borders.
Category: Dispatches