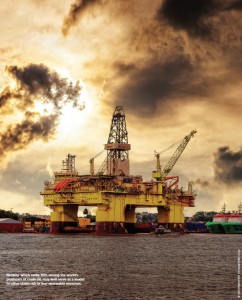 Pope Francis practically sounded like Canadian author Naomi Klein this past June when his second encyclical, titled Laudato Si,' blamed irresponsible capitalism and consumerism for the environmental perils that confront humanity. Linking these problems to global inequality, western political interests and a "throwaway culture" that consumes resources and fetishizes technology, His Holiness warned of "unprecedented destruction of ecosystems, with serious consequences for all of us." Speaking of climate change as "one of the principal challenges facing humanity in our day," the Pope called on the developed world to pay for its environmental trespasses by shouldering the main burden in the fight against climate change.
This sobering diagnosis and stark appeal for action from a spiritual figure hovers in the background as world leaders prepare to meet in Paris at the end of  November for the 21st United Nations Climate Change Conference. There, they will attempt to secure a legally binding universal agreement on climate change. Whether they succeed remains to be seen. But the Pope's call for action confirms a growing sense of urgency among political leaders and scientists.
Days before the Holy See released the encyclical, leaders of the seven industrialized countries had outlined a non
binding plan to phase out fossil fuels by the end of the century. Mere hours later, they awoke to a report in the journal Science Advances that our planet had entered the sixth great mass extinction event of its history, with humans being cause and victim at the same time. "If it is allowed to continue," wrote lead author Gerardo Ceballos, "life would take many millions of years to recover and our species itself would likely disappear early on." Despite their gloomy nature, these pronouncements might jar people into action.
Within this spirit and framework, we survey the 10 "greenest" countries, as measured by Yale's Environmental Performance Index (EPI), a joint project with Columbia University in collaboration with the Samuel Family Foundation and the World Economic Forum. The EPI ranks how well countries protect human health from environmental harm and how they protect ecosystems. The Yale index measures how close countries come to meeting internationally agreed-upon targets or, in the absence of such targets, how they compare to other countries. It assesses nine factors: effects of the environment on human health, air quality, water/sanitation, water resources, agriculture, forests, fisheries, biodiversity/habitat and climate/energy. The EPI ranks nations on a scale of zero to 100, with zero being the farthest from the target and 100 being the closest.
Canada did not make the top 10 of the 178 countries surveyed. Indeed, it barely finished in the top 25. For all of its natural splendour, Canada's environmental governance leaves much to be desired in biodiversity/habitat (where it stood 97th), forests (104th) and agriculture (105th). The United States and China meanwhile finished 33rd and 118th respectively.
The EPI is a snapshot in time. Consider Australia, which ranks third overall. The government of recently ousted Liberal Prime Minister Tony Abbott soon reversed many of the progressive climate change policies passed by previous governments and it is unlikely Australia will maintain its current ranking because the climate and energy category accounts for 25 per cent of the total score.
Second, the EPI paints a broad, but incomplete, picture. Born out of what the authors call "a recognition that environmental policymaking lacked scientific, quantitative rigour," the EPI collects data from a range of sources and the scientific standard to which this data is held is impressive. However, the EPI lacks global data for key areas. They include freshwater quality, toxic chemical exposure, municipal solid-waste management, nuclear safety and adaptation, vulnerability and resiliency to climate change. Finally, it lacks a broader philosophical dimension. It skirts the issue of whether nuclear power is an appropriate tool in the fight against climate change. This said, we agree with the EPI's authors who state, "rankings, which are both loved and loathed, create interest and provoke action. They are a vehicle to motivate policy change, and at the very least, they can spark a conversation about the meaning behind a ranking."
So what does the EPI show? First, environmental protection is not a luxury. Many of the countries on this list rank among the most prosperous, but a high GDP is not a prerequisite for effective environmental governance. Second, many of the top performers are not afraid to involve their citizens in environmental policy-making through inclusive decision processes and data transparency. Politicians in Anglo-Saxon countries, including Canada, meanwhile, often withhold sensitive scientific data from the public and quickly dismiss new environmental policy proposals as job killers. Finally, inclusion on this list is not absolution from past environmental sins, but merely inspiration for further redemption.
So can the world learn from Switzerland and its disappearing meadows? From the citizens of Luxembourg choking on the fumes that drift over their borders from neighbouring power plants and automobiles? Yes.
Here are the top 10 nations, according to this authoritative survey.
1. Switzerland
Population: 8 million
This small country tops the Yale list, in no small part because of its approach to monitoring and preserving biodiversity. Biodiversity first gained the attention of news media because of a 1992 paper called The Value of Biodiversity by American biologists Paul R. and Anne H. Ehrlich. They offered four arguments for preserving the "variety of genetically distinct populations and species of plants, animals and micro-organisms with which homo sapiens share Earth, and the variety of ecosystems of which they are functioning parts."
First, the Ehrlichs argued that humans have an ethical responsibility to protect biodiversity because of their status as the species that now dominates the planet. Second, biodiversity has esthetic values — human activities such as gardening, documentary filmmaking and eco-tourism back up this statement. Third, humans derive direct economic benefits from natural ecosystems, including "all of its food and many of its medicines and industrial products." Finally, genetic diversity generates indirect economic benefits: "Other organisms, in all their extraordinary variety, are part and parcel of a global life-support system that benefits them and humanity as well," they wrote.
If the Ehrlichs provided the rationale for preserving biodiversity, Switzerland offers policies to actually do it, through a program called biodiversity monitoring, launched in 2001. It has vaulted Switzerland to the peak of Yale's EPI for the second straight time. Switzerland also scored top marks in the human health category, which measures the probability of a child's death between the first and fifth birthday, a period when air pollution, airborne particulates and lack of clean drinking water can kill. Switzerland has also emerged as a global leader on climate change. While many developed countries waver on greenhouse gases, Switzerland has reduced the carbon intensity of its economy through a mix of hydroelectricity and nuclear power. In 2000, Swiss legislation called for a reduction of carbon dioxide emissions between 2008 and 2012 to 10 percent below 1990 levels. In 2013, it reset that target at 20 percent by 2020.
It would be a mistake, though, to speak of Switzerland as an ecologically pristine preserve. A recent report by its Federal Office of the Environment called for action to conserve shrinking ecosystems and slow the loss of biodiversity in the face of urbanization and transportation needs. A report by Swiss scientists noted that development had destroyed 70 percent of all pastures and meadows since 1900. Overall, Switzerland's environmental performance reflects its prosperity — rich countries have the financial wherewithal for environmental protection. But prosperity isn't everything. What is needed perhaps the most is political will based on the premise that "ecological wealth can translate into economic health" as the EPI put it. Switzerland appears to accept this argument.
2. Luxembourg
population 600,000
The economic and environmental experiences of this European principality demonstrate a central problem of environmental governance — environmental problems anywhere eventually become environmental problems everywhere and they can be fixed only in concert with others.
The Organization for Economic Co-operation and Development (OECD) says Luxembourg is "highly interdependent economically and environmentally" with neighbouring Germany, France and Belgium and the whole of Europe. This geographical imperative means Luxembourg relies heavily on trade and open borders for prosperity. But many environmental threats for Luxembourg originate from beyond those same borders, outside its jurisdiction. It has to deal with air and water pollution and a fleet of foreign-owned vehicles pumping harmful emissions into its air.
So Luxembourg has developed bilateral and regional environmental agreements, mostly, but not exclusively, through the European Union. The OECD says Luxembourg "has rapidly implemented most EU [environmental] directives and ratified most major international environmental agreements … [with] "significant results," a point Yale's EPI confirms.
Luxembourg received a rating of 100 in the category that measures the proportion of the population with access to clean drinking water and sanitation. It received a perfect grade in biodiversity/habitat, as it has placed 17 percent of its terrestrial habitat under protection, in accordance with the UN's Convention of Biological Diversity.
The OECD said "several pressures on the environment have diminished significantly" in Luxembourg, despite growth in population and GDP, which respectively grew nine percent and 34 percent between 2000 and 2007. In short, the environmental performance of the principality improved as it was becoming more prosperous and populous.
This tiny principality therefore challenges the conventional wisdom that higher GDP and population growth occur at the expense of the environment. The OECD said it did this by shifting its economy from steelmaking to services such as banking, insurance and real estate. Yet Luxembourg's approach may not work elsewhere. Not every state has the luxury of transitioning towards a high-end service industry, which creates its own set of environmental challenges.
According to the OECD, these include a rapidly expanding construction sector,  the highest car-ownership rate in Europe, more waste, more traffic and spreading suburbs. All this said, Luxembourg's story shows even a small country can tackle environmental matters and make it work.
3. Australia
population 23 million
Australia's remarkable environmental achievements come with a dark shadow from the coal that powers much of the  country and its politics. But achievements they are. As EPI director Angel Hsu wrote in the Huffington Post in February 2014, Australia achieved the highest EPI ranking of all G20 countries thanks to "perfect or excellent target scores in many policy areas." They include health impacts, (1st), water/sanitation (1st), forests (1st), water resources (1st) and air quality (15th). However Hsu also noted that Australia has much "room for improvement" in fisheries, where it stood 77th, (stocks of several fish species, including the endangered blue fin tuna, have collapsed due to overfishing), and climate/energy (71st).
On the dark side, coal rules Australia. It supplies 80 percent of all domestic energy, and coal exports — Australia is the world's second-largest exporter — fill government coffers. Accordingly, coal industry leaders hold considerable sway in Australian politics. Consider Clive Palmer, leader of the Palmer United Party, who also happens to be a mining magnate. His party helped the Liberals under
former prime minister Tony Abbott axe the country's carbon tax in 2014. Three months later, the federal government approved Palmer's proposal for a massive new coal mine in Queensland.
Abbott unabashedly backed coal. When he opened this mine in October 2014, he said, "Coal is vital for the future energy needs of the world … coal is good for humanity." Most famously, in remarks he later retracted, he told reporters in October 2009 that "(the) argument (on climate change) is absolute crap … however, the politics of this are tough for us. Eighty percent believe climate change is a real and present danger."
Critics say that despite his retraction, after Abbott came to power in 2013 he reversed Australia's progressive climate policy and aligned Australia with countries (including Canada) that are heavily dependent on fossil fuels. So it's uncertain whether Australia will retain its current place on the EPI list. Its current political atmosphere suggests it will remain in a tie with New Zealand as the second-highest emitter of carbon dioxide per GDP among all OECD countries. Estonia leads this list with Poland (4th) and Canada (5th) rounding out the Top 5. The Czech Republic, Greece, the United States, Turkey and Iceland round out the Top 10 (Figures from 2012).
4. Singapore
population 5.7 million
Decades of careful policy have helped the Lion City leverage its guardianship of the Singapore Straits into one of the most dynamic economies in the world. While this small island state now outpaces many countries in environmental policy. Home to more than five million people who share a space of only 671 square kilometres, Singapore is among the most densely populated spots on the planet. As researcher Amy Weinfurter writes in CityGreen, a Singapore government publication, this city state has consequently reframed what sustainability means.
"Given its limited geography, Singapore has undertaken robust, integrated, and long-term land-use planning measures that have made it a recognized, international leader on sustainable development," she writes. Singapore has sought to leverage its identity as a "city in a garden" to attract investors. "In the process, it has rewritten old narratives that required countries to sacrifice environmental and public health to fuel economic growth, though significant conflicts and challenges persist," writes Weinfurter, a researcher  at the Yale Center for Environmental Law and Policy. Yale's EPI gives Singapore top marks in the categories of health impacts, water/sanitation, water resources and agriculture. These scores reflect Singapore's response to water scarcity through conservation and re-use. Singapore is one of the few countries that collects urban storm water to augment water supplies.
The city state has cut its carbon intensity to come second in the climate change category, behind Papua New Guinea and ahead of countries with a reputation for leadership in clean energy such as Sweden (8th), Norway (10th), Iceland (13th), Denmark (15th) and Germany (31st). Yet unlike many of these states, Singapore lacks extensive renewable energy because it is so small. It has instead reduced its carbon footprint by committing $100 million towards retrofitting buildings for energy efficiency and set a goal of making 80 percent of its buildings energy efficient by 2030.
But if "dense urban areas offer tremendous opportunities for efficient resources use, they can also concentrate and magnify the impact of human populations on the landscape," Weinfurter writes. So no surprise then that Singapore has room for improvement in biodiversity/habitat (109th) and fisheries (98th). Pollution, habitat fragmentation and invasive species continue to threaten flora and fauna. Poaching is an issue, Weinfurter notes, as wild boars and ornamental birds are caught for food or sold to pet shops.
But as the EPI authors note, Singapore demonstrates how "predominately urban nations can capitalize on population density to achieve strong environmental performance." Singapore can be seen as a beacon to a future where the population of urban residents is predicted to rise from 54 percent of the total today to 66 percent by 2050, according to a UN report.
5. Czech Republic
population 10.6 million
Polluted air, dirty rivers, contaminated soil. These environmental wounds remained across the landscape of the modern Czech Republic, which emerged after four decades of communist rule.
The OECD says parts of this nation — Northern Bohemia and Moravia — ranked among the "most heavily polluted areas of Europe" during the communist era, thanks to a centrally planned economy that gave low priority to the environment and high priority to cheap energy from open-pit brown-coal mining. These mines were part of a larger environmental disaster area known as the Black Triangle, a border area shared by the former Czechoslovakia, the former East Germany and Poland. However, while some scars remain, the environmental recovery of the Czech Republic shows that even the harshest effects of unbridled industrialization can be remedied.
The Velvet Revolution of 1989 did not just mean western-style democracy and capitalism. It radically changed environmental governance. New laws enforced by a new environment ministry led to substantial improvements in short order. Between 1990 and 1996, environmental expenditure as a share of GDP eventually reached three percent. Notably, the Czech state contributed little to this figure, with most money coming from the private sector. This pattern has continued, as the state seeks to create economic incentives to discourage water and air pollution by industry.
This approach has produced "tangible results," according to the OECD, and Yale's EPI confirms this assessment. It praises the Czech Republic for its commitment towards biodiversity and constitutionally enshrined protection of natural resources. According to Yale's Angel Hsu, the Czech government has placed almost 14 percent of its space under protection, good enough for 13th place in the category of biodiversity/habitat. Earlier this year, the Czech government imported 14 wild mares from the United Kingdom to help combat invasive species of grasses that have crowded out native flora and fauna. This kind of action, and the country's standing in the EPI, reflects what the OECD calls a "long tradition of nature conservation and forest management."
The EPI has also given the Czech Republic strong marks for its climate/energy policies, ranking it 18th in this category. While brown coal (lignite) remains the country's prime energy source, it says it will increase the share of natural gas, renewable energy sources and nuclear power. Nuclear plants currently provide 35 percent of Czech power, and government plans call for this figure to rise to 58 percent by 2040. Public support for nuclear power in the Czech Republic is high, but some of its neighbours, particularly Germany, are leery of it.
The only former Eastern bloc country in the Top 10, the Czech Republic still has room for improvement, especially in air quality, where it ranked 115th, according to Yale's EPI. According to a Czech government report, 55 percent of its citizens get above-average exposure to the toxic chemical benzopyrene. Many cities have high levels of smog and ground-level ozone. Reasons vary. They include weather, pollution from neighbouring countries, particularly Poland, continued reliance on coal in poorer parts of the country and emissions from the old industries that gave the country's northeast corner its notorious reputation. However, Prague's push for more nuclear power may mean the country trades one set of environmental headaches for another.
6. Germany
population 81 million
When Prime Minister Stephen Harper visited Germany last year, he fielded a question about the Energiewende (energy transition) that his hosts are pursuing. Germany aims to increase renewable energy use to up to 45 percent by 2025 and up to 60 percent by 2035. It's all part of an effort to drop greenhouse gas emissions by up to 95 percent by 2050 from their 1990 levels. Germany shut down eight of its 17 nuclear reactors in 2011, and plans to close the remainder by 2022.
So how did Harper assess this ambitious agenda? He sounded skeptical about the ability of Germany to simultaneously phase out fossil fuels and nuclear energy without sufficient hydropower. "I do not know an economy in the world that does not rely heavily on at least one of those, so this is a brave new world you're attempting; we wish you well with that," he said. According to the Canadian Press, audience members received these well wishes with nervous laughter, and with reason. If anything, recent developments have compounded these concerns.
First, state subsidies for renewable energy have led to higher costs for consumers. Germany's renewable energy law of 2000 obliges consumers to help cover these subsidies through a surcharge. As well, renewable energy producers receive higher subsidies when they pump extra kilowatt hours of renewable energy into the grid, according to the Economist. German legislation stipulates that grid operators must give preference to subsidized renewable energy if weather conditions produce more of it. While these rules provide an incentive for producers of renewable energy — now 27 per cent of electricity production according to the Economist — they also mean consumers face continuously higher energy prices, since current laws favour subsidized, and therefore more expensive, renewable forms of energy ahead of cheaper ones. To be fair, these subsidies are on their way down.
Second, the expansion of Germany's renewables has ironically led to higher carbon dioxide emissions. Since renewables are intermittent, conventional power plants have to stay online continuously, and utilities have found it less expensive to burn pollution-producing brown coal (lignite) than the more benign natural gas. The German government has recognized this absurdity and has plans to shut down a number of brown-coal plants.
Third, the Energiewende calls for two massive transmission lines to transfer wind-generated power from Germany's north to its economically dynamic south. Bavaria's powerful state premier, Horst Seehofer, wants the north's energy, but not the unsightly power lines that would deliver it.
Small groups of every political colour resist the Energiewende. Industries fear it will hurt profits, and union leaders worry it will kill high-paying jobs in automobile manufacturing and machine production. But the Energiewende could be the spark for another industrial revolution, this one focused on green technology, as Germany seeks to remain the largest economy in Europe. Events may well vindicate Stephen Harper, but the Energiewende and its goal of mitigating climate change could serve as an example for other large economies.
7. Spain
population 48 million
During last year's FIFA World Cup, Yale's EPI compared its scores with the FIFA rankings of the 32 teams that had qualified for the tournament. It found a "slight positive correlation" between environmental protection and prowess on the soccer pitch. Spain entered the 2014 round of the world's most important sporting competition as its defending champion, a title now held by Germany. While we should not read too much into this relationship, Spain's environmental governance is instructive, especially when compared to Germany's. Germany is among the world's most prosperous countries, but Spain has been a good steward of its environment despite a severe economic crisis.
Spain performed particularly well in the category of climate/energy, where it finished fourth overall. In its 2015 environmental review of Spain, the OECD found that the country generates 20 percent less carbon dioxide per unit of GDP than in 2000. Three factors made it happen: First, there was a global economic downturn; second, Spain enforced tighter energy efficiency; and third, there were changes in the country's energy mix. In 2000, coal and nuclear power accounted for 65 percent of all the electricity in Spain. In 2013, renewable sources generated 39 percent of electricity, while gas and nuclear power contributed 20 percent each. Coal use had dropped, accounting for only 15 percent of electricity generation. Overall, Spain's renewable energy supply had risen 147 percent since 2000, according to the OECD, largely thanks to generous state subsidies for renewable energy sources.
Spain's changing energy portfolio has also helped improve air quality. And improvement is needed. Spain's air pollution frequently exceeds safe levels, particularly in Madrid and Barcelona. In the summer of 2014, Spain recorded 150 days during which air pollution, specifically ozone, put people at risk of breathing problems and lung diseases, according to the European Environment Agency. (Ozone levels spike when daylight UV rays interact with pollutants from burning fossil fuels.)
Yale's EPI also gives Spain low marks in biodiversity/habitat, where the country ranks 101st. The OECD calls Spain a "biodiversity hotspot" that hosts a third of all endemic European species. Threatened species include the Iberian Lynx, Spanish toothcarp and Hermann's tortoise. While Spain has placed 29 percent of its territorial land and 8.4 percent of its territorial waters under some form of protection, expansion of agriculture acreage, ongoing tourism and transportation continue to threaten Spain's biodiversity. Clearly more work lies ahead. Otherwise, Spain will end up losing something far more important than a sporting title.
8. Austria
population 8.6 million
Its central European location, culture heritage and culinary delicacies have turned Austria into a popular tourist destination, summer and winter (thanks to the Alps). But Austrian tourism confronts an uncertain fate in the face of climate change. Austrian climate scientist Helga Kromp-Kolb recently told the German weekly Die Zeit that Austrian ski resorts should "think about the long term." This appeal comes despite Austria's high reputation for environmental governance, dropping down only one spot from the last EPI.
While Austria receives top marks in water/sanitation, other areas need improvement. They include agriculture (90th) and air quality (104th). Poor marks in agriculture reflect the hefty subsidies the sector receives. Citing a corresponding report from the OECD, the EPI notes these subsidies "exacerbate environmental pressures through the intensification of chemical use, the expansion of farmland into sensitive areas, and the overexploitation of resources like water and soil nutrients."
As to air quality, the OECD notes that exposure to air pollution from particulates and ozone remains "persistently high, especially in large urban areas." Though Austria's emissions of greenhouse gases have declined since the mid-2000s, they have remained above agreed-upon targets under the Kyoto Protocol.
To put this in context, Austria has historically been a leader in developing and implementing environmental legislation and Austrians are more satisfied with their country's environmental quality than Europeans on average. In 2009, 72 percent of Austrians rated the quality of their country's environment as good or very good, whereas the EU average was only 44 percent. This said, the share of the unsatisfied grew in the late 2000s. As an example, tensions between economic development and environmental protection emerged when plans for a cable-car route in Tyrol turned into a national issue. The line would have run through a region designated off-limits for development, and the proposal died. But Austria's ski resorts have a sneaking suspicion that their business model is about to change.
9. Sweden
population 10 million
No surprise to see Sweden on this list. As the OECD says, the Scandinavian country possesses a "sound environmental governance structure" and stands among the "most innovative OECD countries" in environment-related technology" and "the principle of putting a price on environmentally harmful activities." Sweden receives high marks in health impacts and water/sanitation and is in the Top 10 in climate/energy.
The OECD praises Sweden's reduction of greenhouse gases, noting that it "has been very successful in decoupling GHG emissions from economic growth." While emissions from economic growth decreased by 16 percent, Sweden's GDP grew by about 30 percent. "As a result, Sweden more than achieved its commitments to reduce GHG emissions … made under the Kyoto Protocol and its more stringent national target."
Several factors account for Sweden's progressive climate policy. First, renewable energy sources, mainly biomass and hydropower, have met a growing portion of Swedish energy demands. Between 2000 and 2012, energy from renewable sources rose to 35 percent of Sweden's needs. Second, Sweden has put the squeeze on fossil fuels through a carbon tax (that has progressively increased since it began in 1991) and participation in the EU emission trading system. Sweden has managed to pull off a "green tax shift" — off labour and onto carbon-dioxide emissions and fossil fuels. Third, Sweden has invested heavily in public transit through a "congestion charge" that car users must pay to drive in Stockholm's inner city.
Two other aspects of Sweden's environmental performance are significant. First, only Japan and Denmark record more environment-related patents per capita than Sweden. Second, Swedish environmental governance is deeply democratic as citizens are guaranteed public participation  and access to environmental informationand environmental justice.
However, the EPI also finds Swedish policymakers still have work to do, in biodiversity/habitat (where Sweden finishes 89th) and forests (where it finishes 107th). The two issues are related. The intensity of logging is among the highest in the OECD and many forest species such as bears, wolves and lynx are endangered by infrastructure development, natural disturbances and climate change. This said, the known share of threatened mammals, birds and fish is generally lower in Sweden than in other OECD countries.
Finally, the OECD notes that several freshwater bodies and most marine ecosystems suffer from excess nutrients, or eutrophication caused by surface runoff. This is most vivid in the Baltic Sea, thanks to high loads of nitrogen from agriculture, wastewater, industry and shipping. Sweden, of course, bears only partial responsibility for this, because it shares the sea with some rather "brown" countries, including Poland (30th) and Russia (73rd).
10. Norway
population five million
The publication of Our Common Future by the United Nations World Commission on Environment and Development almost 30 years ago remains a landmark in environmental politics. It spelled out a term that has since become commonplace, "sustainable development …that meets the needs of the present without compromising the ability of future generations to meet their own needs."
This concept does not enjoy unanimous support. Critics claim that the notion accepts the logic of growth and consumption, though in a more measured manner.
Others will have to decide whether sustainable development is an oxymoron. Our Common Future points to the influence of Norway on the environmental agenda, because the document is often known as the Brundtland Report, after the then-chairwoman of the UN's environment commission, Gro Harlem Brundtland, who was Norway's prime minister. She currently serves UN secretary-general Ban Ki-moon as a special envoy on climate change.
On the surface, it could be ironic to see a Norwegian speak about climate change on behalf of the UN. The country ranks 16th among the world's producers of crude oil, at more than 1.8 million barrels per day, according the authoritative CIA World Factbook website. The same source also notes that 30 percent of government revenue flows from petroleum. And Norway is also one of the world's largest exporters of natural gas.
But don't accuse Norway of hypocrisy. It may well serve as a model to other states rich in non-renewable resources. As the OECD notes, "Norway's leading role in environmental protection and sustainable development coincides with a period in which it has continued to benefit from the exploitation of oil and gas." In short, Norway uses its energy riches to pay for environmental measures. More important, it is already preparing for a future beyond petroleum. It has squirrelled away state revenues from petroleum in an $870-billion sovereign fund for future use. This approach seeks to compensate Norway's dwindling oil reserves with increases in other forms of capital.
Turning to other EPI categories, it gives Norway top marks in health impacts and water/sanitation, as well as high marks in climate/energy (10th) and air quality (15th). The OECD reports that Norway "continues to be a leader in the international efforts to address climate change and has adopted ambitious emission mitigation targets," reducing emissions per unit of GDP by relying heavily on hydropower for electricity. It also charges a carbon tax and participates in the EU emissions trading system, even though it is not part of the European Union. Norway has accepted all EU environmental directives and in some cases imposed tougher restrictions.
All this said, the EPI gives Norway middling marks in biodiversity/habitat (65th), forests (67th), fisheries (72nd) and agriculture (159th). As the OECD notes in its 2011 environmental review of Norway, aquaculture threatens biodiversity through disease and genetic effects on wild salmon and sea trout. Norway's four large carnivores — brown bear, lynx, wolf and wolverine — remain threatened thanks to the previous loss of forest biodiversity. So the OECD has recommended steps to reduce deforestation and cut agricultural production subsidies. Ambitious policy responses to these issues have been under way for several years now and early reviews show small, but noticeable, improvements.
Dr. Wolfgang Depner has taught political theory and international politics at the University of British Columbia, Okanagan campus. He currently lives in Victoria.
Category: Dispatches