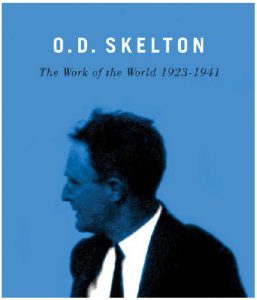 Many authors who write thick biographies of important political or cultural figures follow up later by editing their subject's letters or private papers for publication. Norman Hillmer of Carleton University, perhaps the leading academic historian of Canadian-U.S. relations, has done the reverse. In 2013, he published O.D. Skelton: The Work of the World, 1923-1941 (McGill-Queen's University Press, $49.50). It is a skilfully put together collection of the famous Canadian diplomat's diary entries, letters, memos and the like. And only now comes Hillmer's exceptionally fine full-dress biography, O.D. Skelton: A Portrait of Canadian Ambition (University of Toronto Press, $36.95).
Of course Skelton, the undersecretary of state for the external affairs department from 1925 to 1941, has been written about by many other scholars as well — admiringly by liberal nationalists, stingingly by small- and big-c conservatives such as Donald Creighton. But Hillmer's biography is quite outstanding not just as diplomatic history (a growing field of study) but as biography. It is deep, rich, detailed, fair-minded and full of ideas, and is written in a finely burnished prose. It deserves to be a candidate for one of the numerous annual awards for non-fiction, but, of course, no one knows for certain what might happen in these contests. No respectable bookie will even give you odds.
Skelton, born in rural Orangeville, Ont.,  in 1878, graduated from Queen's University in 1899 and then, armed with his new academic honours, went to London where he failed to win an appointment to the Indian Civil Service. Instead, he did a doctorate in political economy at the University of Chicago and returned to Queen's as a faculty member. During the Great War, when he sided with Sir Wilfrid Laurier in opposing conscription on the grounds of Canadian nationalism, his father "all but called him a traitor." Some wealthy Queen's alums tried to have him fired, but he survived (and was eventually offered the presidency of the university, which he had the pleasure of declining).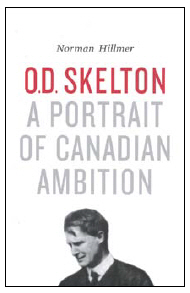 He was one of those diplomats, far more common then than now, who was at heart a prolific writer. Laurier picked him as his official biographer. In 1925, Mackenzie King, particularly impressed by, among other things, Skelton's admiration for him, gave Skelton his diplomatic portfolio. Whereupon, in Hillmer's words, "he quit his job at Queen's, brought his family to Ottawa, and bought a too-expensive house on the verge of an election that threatened to bring the Conservative Party to power and end his time in the capital before it began." As head of the foreign service, he "advanced independent Canadian institutions and points of view that were ahead of his time, ahead of public opinion and ahead of where his prime ministers wanted to go. He became the consummate government insider, the confidant of politicians of all stripes and the undisputed master of the public service."
He wrote that a freestanding foreign policy for Canada was "my chief interest, almost my religion." So naturally, his relationship with Britain was immensely complex. He believed in a British Canada while working fervently and closely with Québécois political figures. He was an imperialist, not in a negative sense, but rather in the progressive manner of the day, admiring the monarchy as "an instrument of Canadian self-government" while wishing Canada and the other dominions to breathe with complete freedom, including the freedom not to be at London's beck and call whenever fighting broke out. "He inspired confidence at international poker games […] negotiating with the toughness of a riverboat gambler."
He gave Canada a distinct voice in the various crises of the 1930s: Japan's war against China, Italy's war against Ethiopia, Spain's war against itself — and finally, of course, Germany's war against Europe and the West, which drove him to what one journalist called a state of "courageous despair." He argued that Canada's role should be to protect its own borders while supplying Britain with materiel and other aid rather than a full-fledged army, and it should not give in to needless censorship and discrimination at home. "A good many people," he wrote, "are prone to think that anyone who differs from their [own] convictions or prejudices should be suppressed." These were battles he lost.
He almost literally worked himself to death. He suffered a heart attack in 1937, but didn't reduce the weight of all his labours. He had a second attack in 1941, when he was 62, and died at the wheel of his Packard, which then crashed into an Ottawa streetcar. Officially, Mackenzie King recalled him as "one of my dearest and closest friends." In private, however, he confessed to being "quite unmoved" by the funeral. Later, he relented a bit, telling his diary that Skelton "disliked the artificial and rather glorified the common place, which was one of his many attributes of true greatness."
Defusing a bomb
Skelton was an excellent talent scout and headhunter. He corralled such people as Norman Robertson, Hugh Keenleyside, George Ignatieff — and Lester Pearson. The last of these is naturally much written about, not only for his political career, of course, but for his earlier diplomatic one as well. Most of this effort has been undertaken by academic historians (including Hillmer, who once edited an anthology, called simply Pearson, in which 18 observers display widely varying perspectives on their subject's successes and failures). The fullest source is the two-volume Life of Lester Pearson by John English: Shadow of Heaven, which takes him to 1948, and The Worldly Years, which ends with his death in 1972. The latter year also saw publication of the first of the three volumes of Mike: The Memoirs of the Rt. Hon. Lester B. Pearson. Therein lay a dilemma, but also a worthwhile solution.
Pearson had been writing chunks of his life story — drafts and sketches, really — for some time, but the result was far from a cohesive narrative. The publishers McClelland & Stewart relied on editorial fixers to inflate the project and whip it into acceptable shape. Now that the University of Toronto Press has reissued the entire set in paperback ($32.95 each), we are reminded of the elves' tactics. They neatly inserted, scattered at appropriate places, an usually large number of Pearson's other writings. This is especially the case with Volume II, covering 1948 to 1957. In Volume III, we see his prime ministerial achievements — official biculturalism and bilingualism, the Canada Pension Plan and other social welfare initiatives, the Royal Commission on the Status of Women, the maple leaf flag, the Centennial, and so forth. But in the previous instalment, we find a great many of his diplomatic dispatches and private letters. They are fascinating, as things that used to be secret often are. This is especially true of the ones related to the subject of Antony Anderson's new book, The Diplomat: Lester Pearson and the Suez Crisis (Goose Lane Editions, $32.95)
A great many people have written about the Suez situation, which threatened to become a big and bloody multipartite war, though few of the works are told from a Canadian perspective. In any case, the events took place so long ago that a short refresher should not be out of place.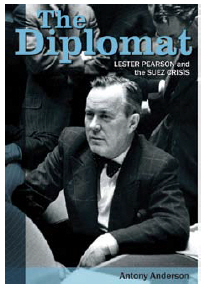 The Suez Canal, linking the Red Sea and the Mediterranean and completed in 1869 with Egyptian labour, was jointly owned by British and French shareholders of the Suez Canal Company. In 1956, the Egyptian president, Gamal Abdel Nasser, seized the canal, supposedly so he could exact tolls to help pay for the huge Aswan Dam that would control flooding on the Nile and generate electricity. In response, Britain, France and Israel began planning to retake the canal by force — especially Britain, which relied on it for most of its petroleum imports — while the Russians, for their part, re-armed Nasser for the coming conflict. Pearson, in his role as honest broker and the head of the Canadian delegation to the United Nations, tried long and hard to negotiate a settlement, but couldn't prevent the outbreak of hostilities. The three countries attacked Egypt without telling anyone else, not even the U.S., which became especially furious with the British.
Get out the blue berets
Not giving up, Pearson persuaded the UN to establish an armed multinational peacekeeping force to stabilize the situation (and for his efforts was awarded the Nobel Peace Prize in 1957.) Thus was born Canada's famous "peacekeeping role" in the world, which now seems likely to resume under the new Trudeau government. That much is hinted at, as though hints were needed, by the fact that the former external affairs, which was rebranded Foreign Affairs, International Trade and Development under Stephen Harper, has been renamed Global Affairs Canada. Other more subtle, but far more important changes may also be in the wind. In Middle Power, Middle Kingdom: What Canadians Need to Know about China in the 21st Century (Penguin Random House, $32), David Mulroney, Canada's former ambassador in Beijing in the recent Conservative government, contends that the government he served considered diplomats to be "incompetent and politically unreliable people, useful only for carrying out very specific and carefully monitored tasks." That seems rather blunt. But however their responsibilities were perceived in the pre-terrorism past, it does seem now that, in Canada and elsewhere, the prevailing atmosphere of fragility and fear is giving diplomats a redesigned sense of their role.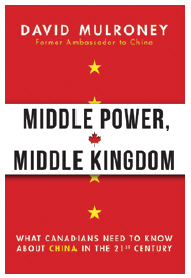 Back to Antony Anderson. By trade, he is a maker of radio and television documentaries. Such facts on a dust jacket of an author's first book seldom augur well for the contents. But this case is different, because Pearson's performance in the Suez Crisis is not merely Anderson's subject, but virtually his obsession. This is obvious from his highly unusual preface in which he tells how the book started out as a documentary film two decades ago. He was to come up with the money needed to interview Pearson's former colleagues, "but got stranded on the brink of editing" — twice. "I could not raise the interest and the post-production funds to finish," though he did get a grant to make a Pearson-Suez website. A previous author, dead by this time, had enjoyed special access to Pearson's old friends and to his diplomatic cables, but none of this original research could be located. Anderson persevered as the years clicked by. Eventually, he finished the book and placed it with a publisher, which promptly went out of business. The book that's now finally made it into print is written clearly and pleasantly, with considerable energy and an eye for drama.
While on the subject of diplomacy…
Everybody knows Casanova (Giovanni Giacomo Casanova de Seingalt, 1725-1798) was a great lover of women. Such has been the impact of his famous Memoirs. But he wrote far, far more than just that and had many other now-forgotten claims to fame — for example, as a spy, poet, adventurer and gambler. As it is with Casanova, so it was with Niccolò Machiavelli (1469-1527), known to general readers mainly as the author of The Prince, which was either a textbook of political ruthlessness, as most people believe, or else a brilliant satire. Most of us forget that he was an ambassador by profession, and a brilliant one. He was the chief diplomat (cancelleria) of the republic of Florence for 14 years when the Medicis were away in exile. He undertook important missions to the king of France, Cesare Borgia, the Holy Roman emperor and two popes.
He handled all of the most delicate tasks, as when, in 1499, he had to tell the Florentine forces fighting in Pisa that there was no money to pay them and then, when the campaign proved a disaster, explain to the French king to his face that it was actually his majesty's fault. Machiavelli took on the difficult or dangerous missions because he was a smart diplomatic professional with a silver tongue and a congenial personality.
People interested in the diplomatic arts should enjoy one or more of the recent books about him. There are short biographies — Machiavelli, A Portrait by Christopher S. Celenza (Harvard University Press, US$24.95) and Niccolò Machiavelli by Corrado Vivanti (Princeton University Press, US$27.95) — as well as a larger one, Machiavelli by Robert Black (Routledge, US$39.95). Useful for context are Mark Jurdjevic's A Great & Wretched City (Harvard, US$49.95), about Machiavelli's Florence, and The Ugly Renaissance: Sex, Greed, Violence and Depravity in the Age of Beauty by Alexander Lee (Doubleday, $35).
Also of diplomatic interest are two titles from University Press of Kentucky. They are Christopher A. Ford's discourse on an ever more topical subject, The Mind of Empire: China's History and Modern Foreign Relations (US$30 paperback), and Walter M. Hudson's Army Diplomacy: American Military Occupation and Foreign Policy after World War II (US$50). One compelling curiosity is The Desperate Diplomat: Suburo Kurusu's Memoir of the Weeks before Pearl Harbor, first published in Japan in 1952 and now available in his own English translation, edited by J. Garry Clifford and Masako R. Okura (University of Missouri Press, US$35). Kurusu was Japan's special envoy to Washington, charged, so he thought, with trying to prevent a war with the U.S. He claimed he had no advance warning about the attack on Pearl Harbor. Finally, Charles Gati has edited a Festschrift (literally, a "festival gathering" by colleagues) in honour of Jimmy Carter's national security adviser. It is Zbig: The Strategy and Statecraft of Zbigniew Brzezinski (Johns Hopkins University Press (US$29.95 paperback). Eighteen policy wonks, historians and pundits offer their views. Carter contributes a loving foreword.
George Fetherling is a novelist and cultural commentator.
Category: Delights