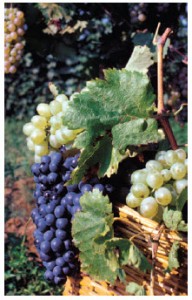 If wine grapes were people, Riesling would have a large and crazy family. The personalities on one side would be sweet and affectionate, the other dry and austere. In between, there would be all sorts that are combinations of the two, but all would have their own sense of balance, poise and focus. And they would probably throw a great party.
Born somewhere in Germany's Rheingau, Riesling has a long and noble history. The first documented mention of the grape dates back to the 1430s, and DNA profiling has shown that it might be a grandfather to Chardonnay and Gamay Noir. From Germany, it spread across the wine-producing world, and fantastic Rieslings now come from Austria, France's Alsace, the U.S. northwest, Australia's Clare Valley and New Zealand. Canada also produces great Rieslings in Ontario's Niagara Peninsula and Prince Edward County and in B.C.'s Okanagan Valley.
Riesling's many styles range from lush and sweet to bone-dry. Whatever the level of sweetness, the grape rarely lacks aromas and flavours. Riesling also easily expresses the qualities of where and when it's grown. It also typically produces fantastic wines in challenging, cool years.
And, through it all, the grape is profoundly defined by its acidity. Every quality wine grape possesses some level of acidity, but these qualities are the cornerstone of how Riesling tastes and feels. It is Riesling's naturally abundant acidity that keeps the wines from descending into cloying and undrinkable messes. Despite their sometimes audacious level of sweetness, they are still poised and elegant.
Fittingly, the largest amount of Riesling is planted in Germany. While much sweet wine was made in the past, the general style of German Riesling continues to move towards drier wines. Every one of the country's wine regions produces the grape, but some of the best are from the Mosel-Saar-Ruwer. Being a cool area, the best grapes ripen on perilous, exposed slopes. A brilliant example of this is the 2014 Vollenweider Wolfer Goldgrube Riesling. Sourced mostly from old, ungrafted vines dating back a century, the wine is intensely aromatic and flavourful with mineral and crushed rock. Higher in alcohol than many others in the region, it has a distinct sense of balance. This drier Riesling is available from $44 at Vintages.
The Humbrecht family has produced wine in France's Alsace region since the 17th Century. Today, Domaine Zind Humbrecht produces delicious biodynamic wines from 40 hectares of vineyards. Its 2015 Riesling is a good example of the region's perfumed, dry wine that has a fuller body than most German offerings. It offers excellent value at $27 from the SAQ.
A brilliant example of Riesling's potential in the Okanagan Valley is the 2015 Tantalus. Established in 2004, the winery overlooks Kelowna and Lake Okanagan. The vineyard was first planted in 1927 and is British Columbia's oldest continuously producing site. Today, grapes are farmed naturally, with a commitment to sustainability. Winemaking focuses on intensive hand-sorting and small-batch fermentation. Citrus and minerality dominate in the 2015 vintage, while the wine retains the precise and invigorating expression of Riesling for which Tantalus is known. This is good value for $31.50 from the SAQ.
Niagara is home to many fantastic Rieslings, but Charles Baker makes one of the best. Using the facilities at Stratus Vineyards, Baker and Stratus winemaker J.L. Groulx produces only two wines. Both are single-vineyard Rieslings, and the Picone Vineyard came first. The 2013 vintage of the Picone, available either at Vintages or directly from the winery for $35.20, is a brilliant example of what Riesling can achieve. Aromas of flowers and tree fruit dominate, while lime and stone flavours show up on the tongue. This is a precise and intense Riesling capable of more than a little evolution with some aging.
Pieter Van den Weghe is the general manager and sommelier at Beckta.
Category: Delights