Cyril Ramaphosa is South Africa's last best hope. Its new president inherits a series of complex and dangerous crises, and must rapidly rescue sub-Saharan Africa's most advanced and modern country from two decades of wanton despoilment and depravity — or fail and see his nation fall fully into a yawning chasm of underdevelopment and despair.
Despite his love of long-horned cattle from Uganda, which he breeds, and vast wealth, which is allowing him to build a huge mansion on Signal Hill overlooking Cape Town, Ramaphosa is no corrupt crook, like so many other leaders of the ruling African National Congress (ANC) and like ex-president Jacob Zuma, his immediate predecessor.
After being denied the presidency in 1997 to succeed Nelson Mandela, who preferred him, Ramaphosa used his vaunted learning and emotional intelligence to find a worthy place on the boards of South Africa's largest mining and other corporations, and to invest wisely. Admittedly, he was among those young, bright Africans who took good advantage of the Black Empowerment Program scheme that was begun under president Thabo Mbeki, the man Mandela reluctantly chose in Ramaphosa's place.
Mbeki had been the political leader of the ANC guerrilla wing, based in Lusaka, Zambia, during South Africa's long militant struggle for freedom. He was a graduate of the University of Sussex and the son of Govan Mbeki, one of Mandela's early comrades and a Communist.
Ramaphosa, now 65, was too young during the struggle to have joined the militants outside South Africa. Instead, as a graduate of South Africa's University of Limpopo and a very young trade unionist, he created and led the United Democratic Front (UDF), an internal anti-apartheid group of insurgents within South Africa's cities during the 1980s. Arguably, the UDF, not the ANC's guerrillas, brought down apartheid.
Ramaphosa's abilities and temperament, in other words, were forged on the anti-apartheid anvil. Then, as Mandela's trusted envoy, he and an Afrikaner delegate of the then-ruling National Party negotiated the measured transition of power that led to the country's independence in 1994 and its peaceful evolution thereafter. Ramaphosa, calm and resourceful, won the backing of the ANC, Africans in general and whites who were receding from command.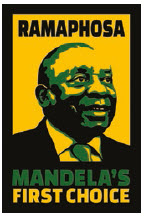 In those days, I would see him in high-toned bookstores late at night, browsing the shelves containing recent political and historical tomes. He was and is a man of ideas, a leader conscious of the call of destiny, a president who doubtless now understands that — after winning the ANC presidency narrowly in December, and the national presidency by a vote of parliament in February — he must soon deliver positive results capable of saving South Africa from sinking ever more deeply into the mire bequeathed to him by Zuma and Zuma's team of supplicants and compromised co-conspirators.
To save South Africa — to redeem the promise that Mandela brought to the post-apartheid country — Ramaphosa must cope with and remedy a number of serious national crises. They are discussed below.
A shortage of jobs
Official figures put formal wage unemployment percentages at 27 or so. But most serious experts assert that the real unemployment percentage is more than 40. Critically, too, formal unemployment numbers among youth aged 18 to 34 are even higher. Without serious economic growth beyond the anemic one per cent that has been South Africa's average performance in recent years, there can be no hope of more increased employment. South Africa needs at least an annual per capita GDP growth of six per cent to provide jobs for the young people who enter the employment market each year. That has not been realized and must now happen for South Africa to prosper and for its people to embrace the ANC and its new leader's initiatives.
Ramaphosa, almost from his first days as ANC president, made the rounds of European capitals and the World Economic Forum to urge multinational businesses to invest in the new South Africa, with its arms newly opened wide to global entrepreneurs. Ramaphosa also made plain to those external (and internal) sources of finance that he intended to clean up rampant corruption and other obstacles to growth.
Many Africans work on the land, for white farm owners. The ANC has threatened to nationalize farmland, but Ramaphosa has said he will do so only judiciously, knowing that any wholesale land-grab in the Zimbabwean manner would destroy jobs and also end South Africa's food self-sufficiency.
The corruption drag
In the years after Mandela, South Africa regressed to the African mean and began more and more fully to indulge in the excesses of grand corruption. Zuma is about to be prosecuted for taking kickbacks to approve contracts with France and Germany for arms purchases, as well as for his cosy dealings with an Indian family of entrepreneurs, and for many other kinds of sleaze. Ramaphosa has pledged to end corruption and to battle strenuously against South Africa's political and official propensity for graft.
But South Africa's corruption goes far beyond Zuma, and well beyond the "state capture" that is alleged to have occurred through Zuma's fraudulent dealings with the Gupta family from India. Nearly every provincial and national ANC political leader is implicated; nearly every contract approved by the government had its personal beneficiaries. Unfair advantage was taken by nearly every person holding high public office who had control over licences, permits and procurements. Fortunately, the Guptas are being prosecuted and their business arrangements scrutinized and wound down. Ramaphosa has also eliminated the impunity that major ANC leaders and their cronies enjoyed under Zuma.
The corruption — estimated at tens of millions at the hands of Zuma and the Guptas alone — has had an effect on GDP, which has declined from the equivalent of $400 billion US to $294 billion in 2016 and a projected $250 billion in 2017. Its debt to GDP ratio was 53 per cent last year and is reportedly heading to 65 per cent this year. In 2008, it was 27 per cent.
A managerial mess
South Africa hardly runs effectively. When Mandela and Mbeki took over from the whites, they appropriately appointed Africans and followers to the national bureaucracy. Many experienced prior employees were let go and with their exits, the country lost their embedded skills. Playing patronage games also made the civil service less functional, along with state-owned corporations such as the national airline, the national electricity-generating firm, ports and harbours. Service delivery suffered.
If Ramaphosa's regime can begin to fix South Africa's managerial weaknesses, possibly by demanding better and more honest performance, he will win the acclaim and trust of the vast army of South Africa's poor, who look to the state for water, power, roads, security and a new sense of purpose.
Education
South Africa has a deficit of skills, even though it produces about 150,000 university graduates every year. In sub-Saharan Africa, only Nigeria and Ethiopia have turned out so many graduates, proportionally. But primary and secondary schooling have increasingly been failing the young people who are desperate to advance. There are a number of top-flight institutions, but across the universe of schooling, there is palpable weakness and underachievement. Teachers are poorly trained and do not come regularly to class. The teachers' union is powerful. Textbooks and computers are scarce. Motivation is weak. South Africa has been starving its schools financially for years.
The results are seen each January, when the yearly results of the school-leaving examination — "the Matric"— are announced. Despite some shifts in questions and scoring, only about 50 per cent (sometimes fewer) of the students who sit the exam pass. The others, about 400,000 a year, are thus thrown onto the unforgiving formal job market without qualifications. Moreover, only 20 per cent or so of those who sit the Matric qualify for university — a figure that is little changed over the past two decades.
Ameliorating these critical deficits will take time, but Ramaphosa only has a year's grace before the next national election, when the ANC's continued rule and his presidency will be at stake. The ANC, without Ramaphosa, would have had an uphill battle to persuade voters to continue to support its corrupt and inefficient governance.
Ramaphosa has already begun to reinvigorate South Africa's sense of national purpose and to promise, if not as yet to deliver, the kinds of public services that South Africans seek and that other nearby nationals, such as Botswanans and Namibians, enjoy. It is his personal integrity, his appointment of at least some more qualified cabinet ministers than under Zuma, his willingness to recognize and accept the organizational and governance deficits that his administration inherited, and his clear determination to make South Africa a better place, that gives his countrymen renewed hope.
If Ramaphosa's stewardship were to fail, it could be because his country's crony capitalism and corruption is too entrenched and too systemic, because fixing the educational system is impossible, because power and water shortages grow larger, because housing shortages increase, because potholes in streets grow larger, or because his reforms threaten the ill-gotten gains of too many ANC stalwarts. And then South Africa will continue to slide economically, socially and politically.
Ramaphosa is resilient. South Africa is resilient. Under his steady and well-honed leadership, and with the goodwill he has harvested overseas, the odds are that Ramaphosa can shift South Africa firmly onto a winning trajectory.
Robert I. Rotberg is the founding director of Harvard Kennedy School's program in intrastate conflict, president emeritus of the World Peace Foundation, and a fellow of the American Academy of Arts And Sciences. His latest book is The Corruption Cure. (Princeton, 2017)
Category: Dispatches