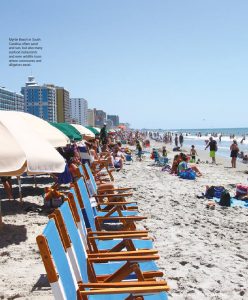 It may seem audacious to choose 15 vacation spots that check off all the items on a traveller's list, but we see it as a something-for-everyone approach. Or put another way, you can spare one person from inevitable sunburn and beach boredom and another from tedious shopping and historical sites, while another escapes long hot walks on interminable trails.
We provide all three for a high-variety visit. The Top-15 we chose offer all of the following elements:
1. A top-notch beach suitable for various maritime activities, such as swimming, scuba diving and paddle boarding.
2. Terrestrial activities, such as hiking and biking.
3. Urban activities that appeal to travellers who might be looking for cultural enrichment with museum visits and galleries, shopping or simply a fun night out on the town. And, oh yeah, it has to be relatively affordable.
So how did we choose? Our starting spot was the Amsterdam, Netherlands-based Travel Bird, which produces an annual Beach Price Index. From there, it was a matter of finding places in or near large enough communities to promise something unique in terms of urban entertainment and away-from-the-beach recreation.
We also considered regional balance, among other issues, including accessibility from North America, and safety issues. In short, making this list was difficult, and certainly involved some subjective ranking.
What the list does not do is simply rank the largest cities with passable beaches and decent outdoor activities. Size, in this case, does not matter.
Vietnam's Hoi An is significantly smaller than Australia's Sydney, but it offers something more unique by virtue of its well-preserved architecture. We also "discriminated" against affordable beach locations that might easily fit our criteria, but might also be too "familiar" to readers. (Sorry, Barcelona.)
This said, we cannot assume that readers have not already heard of these places and, in any case, this list aims mostly to be inspirational. Happy travels.
1. Coronado Beach, San Diego, United States
Coronado means the "crowned one" in Spanish and the beach near San Diego bearing this name is truly fit to be at the very top of our list.
The sand beach (one of several on Coronado Island) stretches for miles and draws fewer visitors than San Diego's other major beaches — Mission and Pacific.
This more peaceful atmosphere also makes it more attractive and amenable for families eager to escape the SoCal crowds.
While the beach lacks a bustling boardwalk, it compensates with other rewards. They include warm, calm water, perfect for swimming and the Hotel del Coronado, a historic landmark that has hosted Hollywood legends, royalty and at least 11 U.S. presidents since the late 1880s amidst late-Victorian splendour. This beach also boasts the scenery of San Diego Bay, which visitors can experience from a number of vantage points, be it on foot, Segway, bike, paddleboard or kayak.
Downtown San Diego lies just on the other side of a stunning bridge and offers a wide range of attractions, including specialty shopping and dining befitting an urban centre of 1.4 million. The city's zoo is world famous.
Students of history and politics will also get their fill. San Diego serves as the principal home port of the U.S. Pacific Fleet and boasts two major naval museums.
2. Hoi An, Vietnam
This city of 130,000 on Vietnam's central coast served as a major trading centre between the 15th and 19th Centuries, thanks to its river location that connects Southeast Asia with the rest of the world.
In the 21st Century, it has emerged as an "it" destination for discriminating travellers from distant shores who appreciate authenticity and accessibility, without packed hotels.
Hoi An's well-preserved architecture, a fusion of Vietnamese and foreign influences, speaks to this point, and has earned the city a spot on the list of UNESCO World Heritage Sites.
Surfers flock to Hoi An because of its high waves and low costs, an aspect that has also increasingly attracted families and other budget travellers in search of a summer holiday less ordinary.
While tourism has become an undeniable part of Hoi An's economy, travellers do not have to go far to get a taste of how locals live.
The city is pedestrian-friendly and visitors can easily access the surrounding countryside with the help of local tour operators.
This sense of authenticity is one of the reasons then-U.S. president Barack Obama received a recommendation to visit the city during his 2016 visit to Vietnam. He did not, lunching instead in Hanoi with the late celebrity chef Anthony Bourdain. It might well be worth finding out what he missed.
3. Playas Las Terrenas, Dominican Republic
Playas Las Terrenas easily combines European and Caribbean cultures to create a kind of tropical cosmopolitanism that readily appeals to travellers who are looking to venture off the usual paths.
Located on the northern shores of the Samaná Peninsula, the "gnarled finger" of the Dominican Republic — as noted by The New York Times — is the centre of a region that bears little actual resemblance to a malformed digit.
The rolling hills of the peninsula's interior (among the most remote locations of the Dominican Republic) have a lush, green hue. Groves of palm trees also provide shade to a series of sandy beaches. Playas Las Terrenas is perhaps the most familiar, but it faces fierce competition from Playa Cosón and Playa Bonita for the favour of visitors.
Those who do go are also likely to see the many expats, mainly from France and Italy, but also the United States, who have settled on these shores.
They run French bakeries and restaurants, such as the iconic El Lugar (The Place), which combines a laid-back atmosphere with highly rated seafood dishes.
While visitors might spot the French or Italian expats by their fashions, the boundaries between these outsiders and locals are blurry and have produced a distinct social scene that blends elegance with a relaxed attitude, as evidenced by the nearly rule-free traffic.
4. Split, Croatia
The second-largest city in Croatia offers opportunities for a range of tastes.
Clinging to the Dalmatian coast, Split was first the site of a Greek colony, then a Roman regional hub during the rule of Diocletian, who erected a large palatial complex.
Its remaining ruins rest in the city core, mere minutes away from Bacvice Beach, the largest of four city beaches and one of several in Split's metropolitan area, where the population is about 350,000.
The azure-coloured waters of the Adriatic Sea draw an increasingly diverse group of travellers who have given Split an international flair and vibrant nightlife.
Those eager to escape the hustle and bustle have plenty of options. They can visit the nearby city of Trogir (which, like Split's core, is a UNESCO World Heritage Site), rent kayaks to explore the ravine-rich coastline with its many small islands and hidden bays, or disappear into the mountains, starting with Mosor Mountain, which rewards visitors with stunning views at the cost of a public bus ticket.
North of Split, less than four hours by bus, lies Paklenica National Park, where more than 150 hiking trails await more adventurous travellers.
Finally, no discussion of Croatia would be complete without mentioning Plivice Lakes National Park, three hours to the northeast of Split. The park consists of 16 lakes connected by waterfalls. Its Karst topography, where underground drainage produces sinkholes and caves, has made UNESCO's list of World Heritage sites.
5. Wasaga Beach, Ontario, Canada
Wasaga Beach is more than just the world's largest freshwater beach, with 14 kilometres of sandy shoreline along the southern shores of Georgian Bay. It represents a good starting point for any vacation.
As a Blue Flag Beach (www.blueflag.global), Wasaga Beach balances water quality and environmental sustainability with general accessibility. While this "inland" Canadian beach fronts Lake Huron, its look evokes more southern latitudes without the artifice apparent in mass touristy strongholds such as Miami, where unceasing walls of concrete looming over teeming beaches crowd out any sense of contemplation.
To be fair, Wasaga Beach is not without its masses, but offers plenty of escape points. An extensive set of hiking and cycling trails totalling 100 kilometres surrounds the community. This network offers, among other attractions, access to a series of sand dunes and the remains of a glacial lake that covered the area 10,000 years ago. Contemporary dune denizens now include more than 200 species of birds and 700 different types of plants.
Those looking for more distant scenery can check out the Georgian Trail, which follows the old railway line that once connected Collingwood and Meaford. It combines easy hiking with lake scenery and plenty of roadside attractions and rustic ambience. And if this sounds all too serene, Downtown Toronto lies just two to three
hours away.
6. Algarve, Portugal
The 150-plus beaches of the Algarve coast in southern Portugal have graced the pages of countless travel magazines — for good reason.
Wind and water have chopped sections of the coastal limestone into a jagged symphony of stacks and spires that pierce a perpetually blue sky from every imaginable angle. Visitors can pass underneath majestic arches as they stroll along sandy beaches or surf the reliable break coming off the Atlantic.
But the region — whose southern tip lies three hours south of Lisbon — is more than just a geological fantasy and inspirational playground for beach-bum philosophers.
Families can choose from a list of children-friendly beaches and activities that include dolphin-watching and sand-sculpting. Boat and kayak tours of the craggy coastline are also popular with families.
A popular science centre in Faro and an adventure park in Lagoa also cater to children. Adults also have plenty of options beyond the sea, thanks to a series of trails leading to natural and cultural attractions. The Seven Hanging Valley Trails hug the panoramic coastline, offering some of the best views, while the Paderne Castle Trail leads through the rural countryside towards the ruins of a Moorish castle from the 12th Century. The affordable cuisine of the region has a reputation far beyond its borders and Lisbon (about three hours north) and Seville (about three hours east in Spain) cater to more urban tastes.
7. Myrtle Beach, South Carolina, United States
A large Ferris wheel — the SkyWheel — spins year-round over the oceanfront boardwalk in Myrtle Beach, the urban heart of the Grand Strand, a 100-kilometre-long stretch of white sand beaches that visitors can walk almost entirely without leaving the water's edge.
Nearly 60 metres (or 20 storeys) in height, the SkyWheel is the sixth-largest of its kind in the United States and speaks to the ambition of the region, which has become a golfing mecca over the decades. The golf passion even extends to a themed mini-golf industry for family fun.
While golfing might attract an older crowd, the region caters to all ages, from university students on spring break to families looking for an affordable vacation that includes plenty of sun, sand and surf.
This combination constitutes the core of the region's appeal, but other attractions await.
They include a bevy of restaurants featuring local seafood and a number of gardens and wildlife preserves that showcase southern flora and fauna, including the historic Brookgreen Gardens near Murrell Inlet, a small village just south of Myrtle Beach.
If this sounds too sedate, visitors can always stoke their adrenaline levels by booking a tour through marshes teeming with local wildlife, from cormorants to alligators.
8. Bondi Beach, Australia (near Sydney)
Sydney is not exactly easy on your wallet. According to the international travel agency, Flight Centre, Sydney is the most expensive destination Down Under. Other rankings paint a similar picture. According to the Intelligence Unit of The Economist, Sydney is now the 10th-most expensive destination in the world, cracking the Top-10 for the first time in history, ahead of New York and London.
Tourists stay for a good time, not a long time, but the high cost of everything can quickly blow some big budget holes.
Deals are available, and those looking for a beach holiday in a major metropolis that offers a wide range of cultural activities cannot go wrong with Bondi Beach.
Located seven kilometres from downtown Sydney, Bondi Beach has drawn visitors since the middle of the 19th Century. Its popularity increased when the first tramway reached the area in 1884 and Bondi Beach draws 2.5 million people a year.
While undeniably busy, Bondi Beach nonetheless promises some excellent swimming and surfing. Visitors can also enjoy the beach's spectacular scenery while hiking a system of nearby trails or check out the multicultural neighbourhood that has sprung up around the beach.
Above all, a visit to Bondi Beach promises perhaps nothing less than a chance to feel the pulse of a nation at play.
9. Puerto Villamil, Galapagos Islands, Ecuador
A visit to Puerto Villamil, 1,000 kilometres off the Ecuadoran coast in the middle of the Pacific Ocean, is like a journey to the end of the world.
Located in Isabela, Puerto Villamil is the largest city in the largest (by area) in the 19 islands that make up the Galapagos. City is, however, a relative term, since it is really the only major settlement on the island, and home to most of its 2,000-plus residents. Puerto Ayora, the largest city of all of the Galapagos islands, with 12,000 people, lies on Santa Cruz, the second-largest island.
Puerto Villamil's sand beach stretches for three kilometres past a series of restaurants and accommodations that range from the affordable to the luxurious. A nearby pier draws yachts and customers from around the world. But this cosmopolitan touch is, of course, only a secondary attraction. As UNESCO notes, the Galapagos Islands serve as a "living museum and showcase of evolution."
The crossroads location at the confluence of three ocean currents has blessed this archipelago of former and active volcanoes with an immense biodiversity that inspired Charles Darwin's theory of natural selection and evolution.
This variety awaits visitors. Salt ponds near the main beach attract pink flamingos and a breeding centre for the islands' world-famous giant tortoises lies just one kilometre from the city centre. Iguanas lounge everywhere.
Or, as Lonely Planet puts it: The Galápagos Islands may just inspire you to think differently about the world. The creatures that call the islands home, many found nowhere else in the world, act as if humans are nothing more than slightly annoying paparazzi.
10. Lima, Peru
With a coastline that runs more than 2,400 kilometres and waves on par with those of Hawaii, the third-largest Latin American country has become an emerging destination for surfers and others who enjoy the ocean.
Part of the charm lies in the visual contrast that defines the Peruvian coast. Much of it qualifies as a desert thanks to the Pacific's Humboldt current that carries cold, dry air to the central and southern sections of the coast. This combination means the Peruvian coast receives little to no rainfall for nine months, creating a stunning clash between the vast Pacific Coast and the coastal desert just beyond the shore.
While Peru's prettiest beaches lie several hours to the north and south of the capital, Lima's Miraflores neighbourhood offers no fewer than four popular beaches.
Several more are within an hour's drive outside the city.
The appeal of Lima, of course, lies in its country and cosmopolitan combination. Visitors can take trips to the beach and they can also tour the city's well-preserved historic core founded by Spanish conqueror Francisco Pizarro in 1535.
Or they can sample Lima's burgeoning culinary scene following an afternoon of people-watching on El Malecon, a seaside promenade that stretches for five kilometres. A collection of museums, galleries, clubs and some of the world's best restaurants gives Lima a rich cultural life.
Not so long ago, Lima carried the moniker "Lima the Ugly" because of its population's size (almost 10 million residents or one third of Peru's population) and traffic chaos. But recent improvements have warranted a revision.
11. Zakynthos, Greece
Greece's 10th-largest island by area and its eponymously named city have everything visitors might come to expect from a summer beach vacation to the Mediterranean.
First, it can look back on a long, varied human history that runs from the Mycenaean period in Ancient Greece's late Bronze Age (approximately 1600–1100 BC) to modern-day Greece.
Physical reminders of the various powers that have ruled Zakynthos over the millenniums dot the island, offering nothing less than a crash course in past and more recent civilizations.
Zakynthos also looms large in literary history, as the birthplace of Dionysios Solomos, Greek's national poet, one of only several writers who were born and worked on the island.
Its inspirational elements are readily apparent. Sun-drenched rocky features offer sweeping views of the Ionian Sea and its surrounding islands, some inhabited, others not. Zakynthos' grottos offer a rhapsody of romantic blues shimmering in the sun. The undeniably key attraction of the area, though, is the rusting hulk of the freightliner, MV Panagiotis.
Stranded on Zakynthos since Oct. 1, 1980, its skeletal remains draw thousands of visitors each year to Navagio Beach, a small, confined cove.
Only boats can access this last resting place of what some suspect was a smuggling ship. Flanked by towering white cliffs standing guard, the wreck evokes Shelley's Ozymendias. "Of that colossal wreck, boundless and bare, the lone and level sands stretch far away."
12. Ambergris Caye, Belize
Ambergris Caye is a cliché and a revelation. The "undisputed superstar of Belize's tourism industry," as described by Lonely Planet, Ambergris Caye features all of the idealized traits of a tropical island: pristine beaches, palm trees and perpetual sunshine.
Temptation Island, a reality television show on Fox, used it as its backdrop during its first season.
This perceived perfection has carried a price, though — that of mass tourism. San Pedro, the island's largest community of 12,000, relies almost exclusively on souvenir shops and other similar businesses for its economic survival, and resorts have sprung up around the island, a narrow strip of land, about 40 kilometres in length and no more than eight kilometres wide.
Yet, despite its accessibility, the island remains rich in locations where visitors can tune out the rest of the world, or alternatively, disappear underneath the waves, as Belize boasts the finest system of reefs outside Australia's Great Barrier Reef.
The Great Blue Hole, a large underwater sinkhole measuring 300 metres across and 125 metres deep, is readily accessible from San Pedro, either by boat as part of a day-long diving trip, or better yet, as the highlight of a scenic flyover.
13. Jaco, Costa Rica
Located two hours south of the capital of San Jose, Jaco is a Pacific resort that draws tourists for all sorts of reasons.
While many come for the surfing, non-surfers can choose among several beaches for swimming and relaxing under a tropical sun.
Other activities also beckon. They include boat tours on the nearby Rio Tarcoles, offering close-but-not-too-close encounters with local crocodiles, or ATV tours into the nearby mountains.
Jaco also lies near two national parks — Carara and Manuel Antonio — whose well-maintained trails offer excellent hiking opportunities.
Both, but Carara National Park more so, showcase the ecological wealth of Costa Rica, which has gone to great lengths to preserve its natural environment, in part because of its economic importance as a tourism driver.
Lovers of wildlife, especially birdwatchers, will likely marvel at the sights and sounds that await them once they enter these preserves of (near) ecological pristineness.
True, in the minds of some, Jaco has become too accessible, too popular. For a community of 10,000, it has an active, even bustling nightlife. But what is wrong with that?
14. Tulum Beach, Mexico
Tulum Beach melds the mystical with the modern. While no spot along Mexico's Mayan Riviera qualifies as secluded, its location two hours' drive south of Cancun gives Tulum Beach a measure of privacy long missing from mass tourism hubs, such as Playa del Carmen.
Like other parts of the region, Tulum Beach boasts its fair share of family-friendly beaches and Mayan ruins. But what separates this community of 20,000 people (minus the tourists) is the combination. Tulum's ruins rest on an ocean-facing cliff and visitors can see one of the best-preserved buildings in the entire complex — El Castillo — from the beach that lies just beneath it with a trail connecting both.
Such points of connection, be they physical or spiritual, also exist elsewhere in the region. The area is home to several wellness resorts that specialize in yoga, meditation and other contemplative techniques designed to cleanse the mind from the confusion of modernity.
But the region also offers more physical activities, with cave diving as one of the major attractions. Local restaurants feature cosmopolitan fare — anyone for Thai-Mexican fusion? — and visitors with a taste for nightlife can always check out Cancun.
15. Patong, Phuket, Thailand
Fair warning: the nightlife around Patong Beach on the Thai island of Phuket is brash and boisterous. Its epicentre is Bangla Road, a strip of clubs and cabarets.
Closed to traffic once the sun has set, Bangla Road serves as the neon-coloured spine from which several side streets radiate like ribs.
Each side street (soi) offers unique attractions and visitors may encounter sights that require a high degree of liberalism. Think plenty of alcohol, skin and elaborate shows featuring one of Thailand's biggest and most infamous late-night attractions — "lady boys," who are either transgender women or men in drag.
Visitors also do not have to travel far to experience another sort of jungle, as several operators offer trekking tours into the nearby mountains on the backs of elephants.
Those looking for sleeker and speedier transportation options to explore the countryside can rent one of the ubiquitous small motorbikes that whiz and whir up and down the island.


Of course, Patong is only one among several beaches that have made Phuket one of the most popular vacation destinations in the world and visitors who want some quiet time before thrusting themselves back into the frenzy that is Patong can check out Mai Khao Beach on the northwestern coast of the island.
Wolfgang Depner is a writer who lives in Victoria. He writes about politics and teaches at Royal Roads University. He also has taught political theory and international relations at the University of British Columbia, Okanagan Campus.
Category: Dispatches