Travelling the world and getting to know new cultures and civilizations has enriched my life, but I always fall captive to Bulgaria's special charm. Every spot in my small home country has a beauty that will enchant the human heart.
Bulgaria is situated in southeastern Europe on the northeastern part of the Balkan Peninsula. Bulgaria is connected to the Black Sea and the Danube River. It finds itself in the transitional region between two climate zones, which gives it an exceptionally diverse climate. Its soil, vegetation and wildlife are also diverse. Nature has also given Bulgaria magical sources of health and beauty. It has among the most abundant thermal water wealth in European countries. Indeed, its number of thermal deposits is the second highest in Europe. So far, more than 600 mineral springs have been discovered and studied in Bulgaria, and more than 80 per cent of them have healing properties and water temperatures from 20 to 101C.
The Thracians who inhabited these lands millenniums ago, knew about the healing powers of mineral springs. In Roman times, some of the most famous balneotherapy facilities were established in Bulgaria. Whenever I am home, I try to enjoy the local natural resources and always have an unforgettable and beneficial stay. The mineral water that can be found in, for example, Bankya, near Sofia, is famous for its healing properties. Other equally auspicious mineral springs can be found in Sandanski, Velingrad, Devin, Sapareva Banya and Hisarya. The modern spa centres that have been built around the hot springs attract visitors from all over the world because of their healing and recreational procedures — from mud therapy; chromotherapy, which uses colour and light; thalassotherapy, which uses sea water, to aromatherapy and massage.
Sandanski, located at the southwestern side of Pirin Mountain, is a favourite place of mine. Many travellers don't realize how picturesque the natural environment is in Bulgaria until they see Pirin National Park, with so much impressive nature. Its vicinity is abundant in cultural, historical and natural landmarks. The town is famous for its unique climate and mineral springs with temperatures of up to 83C. Many say a visit to these springs is the best natural treatment in Europe for bronchial asthma. The resort is also recommended for treatment of skin allergies. Just 24 kilometres from Sandanski is the museum town of Melnik. It is the smallest city in Bulgaria and home to some of the best wineries in the country. It boasts wines that are rich in taste and aroma.
The Bulgarian Black Sea resorts have their own natural resources that will serve up a perfect holiday. Their recreational compounds have a range of healing, rehabilitation and relaxation services. The city of Pomorie, for example, is a sanatorium resort based on the healing properties of the famous Pomorie mud. The wide beaches and modern mud therapy are things my husband and I Iike taking in while on vacation.
While it's nice to get away to smaller destinations, there's also no denying the appeal of vibrant, cosmopolitan cities. Sofia is not only the capital, but also the heart of Bulgaria. The city is surrounded by enchanting mountains. It has a 7,000-year-long history and is seen as an important crossroads on the Balkan Peninsula as well as a crafts and trade centre. Today, cultural life and the arts in Sofia are influenced by worldwide trends. A number of churches are worth seeing, including the most famous and impressive Boyana Church — a UNESCO World Heritage Site located on the outskirts of Sofia. According to UNESCO, this site is one of the most complete and perfectly preserved examples of Eastern European Medieval art.
Bulgaria's museum villages and towns are also mesmerizing. There are many, and I will name just a few. Arbanasi is one of the most picturesque old villages in Bulgaria. It is located on a rocky plateau and presents a magnificent view towards the Medieval part of the old Bulgarian capital of Veliko Tarnovo. Arbanasi is famous for its distinctive residential architecture and churches, which abound with murals. The houses, more than 1,000, are astounding, with their rough exterior view and high stone fences. The churches, with their high solid outer walls, small windows and unbreakable iron-clad oak doors, are in keeping with the general architectural appearance of the village.
Bozhentsi is also a small village, an example of Bulgarian architecture from the Revival period. Its high stone fences, forged oak gates, narrow cobblestone streets, stone taps and bridges and small shops all have the unique feel of this heavenly spot. It is an ideal location for a quiet vacation, with good food and clear mountain air.
I always try to find time to visit Plovdiv, the second largest city in Bulgaria, selected as one of two 2019 European Union capitals of culture. It has unique cultural and historical heritage, which includes three main periods — Antiquity, the Middle Ages and the Revival. Old Plovdiv is a special city, made up of archeological sites, galleries with interesting exhibits, ancient buildings, functioning temples with rich paint and wood-carving decorations, cosy cafés, excellent restaurants, beautiful art galleries, old and new houses with romantic yards and picturesque cobblestone streets.
I love the sea and Sozopol is the oldest town along the Bulgarian Black Sea. This town is a popular fishermen's village and big seaside resort. Numerous stone anchors and stocks dating from the First and Second Millenium BC have been discovered in Sozopol Bay. There is evidence of active maritime traffic since deepest antiquity. I like it because it is small enough for a casual stroll. I usually visit in September when the town hosts the Apollonia Arts Festival, during which visitors may enjoy many events, including plays, open-air concerts, chamber music, jazz concerts and films.
The ancient city of Nessebar, which is on UNESCO's World Heritage list, is another popular Bulgarian resort. The coastal town has a beautiful sandy beach and a rich historical and cultural heritage. Situated on a rocky peninsula on the Black Sea, the more-than-3,000-year-old site was originally a Thracian settlement. It is a location where numerous civilizations have left tangible traces.
There are many holy monasteries and masterpieces of Bulgarian architecture, art and culture. I often return to Rila Mountain, the highest mountain in the Balkan Peninsula, and the outstanding Rila Monastery, a good example of the Bulgarian Renaissance and a UNESCO World Heritage Site. It was built at its present location in the 14th Century. The monastery library houses thousands of manuscripts and books, the oldest dating back to the 10th Century. An object of outstanding interest is the central wooden iconostasis with its wall of religious paintings and icons displayed in the main monastery.
Finally, I would invite you to Bulgaria to try traditional Bulgarian cuisine, which is colourful and rich in spices. In some places, recipes have been passed down from generation to generation and have remained unchanged for hundreds of years. The recipes include a large number of vegetables and herbs and spices, among which are garlic, black pepper, thyme, spearmint, savory, bay leaf, paprika, basil and oregano. Almost all Bulgarian dishes include parsley. Some dishes are cooked in clay pots and they vary by region. In Bulgaria one can experience the taste of world-famous Bulgarian yogurt. Bulgaria produces rich white cheeses, herbal honey as well as very high-quality propolis (a substance bees make to seal their hives) with proven healing powers. Wine is integral to the history of Bulgaria and very much a part of Bulgaria's culture, customs and spirit. The country is divided into five wine regions, each with unique characteristics.
Finally, here are some Bulgarian gift ideas when you head back to your home country, for your family and friends: Rose oil products (with extract from the local variety Rosa damascena), items with handmade embroidery, a piece of clay pottery, hand-woven lace and dolls in national folk costumes.
Wishing you happy travels.
Svetlana Stoycheva-Etropolski is the ambassador of Bulgaria.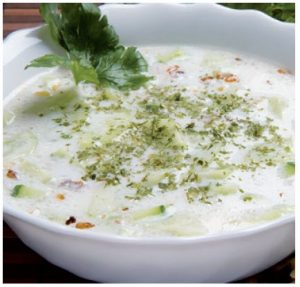 Tarator
This cold cucumber soup is a quick and easy Bulgarian recipe.
2 cucumbers
400 grams of plain yogurt
Crushed walnuts (to taste)
1 clove of garlic
Vegetable (olive) oil
A handful of dill, finely chopped
Preparation: Peel the cucumbers and cut them into small cubes. Put the yogurt in a bowl and stir, add the cucumbers and continue stirring. Gradually add ½ litre of cold water. More or less water may be needed, depending on the desired density. Use a pestle and mortar to crush the clove of garlic with some salt and add to the soup with the ground walnuts and finely chopped dill. Season with a little vegetable oil.
Category: Delights