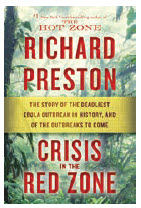 Crisis in the Red Zone: The Story of the Deadliest Ebola Outbreak in History, and of the Outbreaks to Come
By Richard Preston
Random House, New York
369 pages
Hardcover: $36, eBook $17, audio download $34, Kindle $15
In December 2013, on a tiny patch of land along the border of three African nations — Liberia, Sierra Leone and Guinea — a young boy playing at the foot of a rotting tree comes into contact with a bat. He may have been bitten by it, or tasted some undercooked bat meat. He may have been bitten by a bat-fly that transferred tiny amounts of bat blood into his body. Whatever the precise form of exposure, it is a moment when the deadly Ebola virus jumps from animal to human, and a catastrophic outbreak begins.
The 2013-2014 Ebola shockwave infected 30,000 people and killed more than 11,000 before finally being declared over by the World Health Organization in early 2016. Richard Preston's vivid narrative looks at how it spread, the efforts to stop it and the brave Africans and outsiders who risked their lives — and in many cases lost them — to battle what he calls "a true monster."
Ebola is still very much in the news. In the summer of 2019, the WHO declared the most current outbreak, this one in the Democratic Republic of the Congo, a "public health emergency of international concern." As of this writing, there are 3,313 confirmed or probable cases of the lethal disease in the Congo alone, and 2,203 people had died.
Yet few in the West seem to care that a viral epidemic that first leapt into humans in 1976 — and again in that 2013-14 outbreak — is today pummelling another vulnerable nation. They should: Ebola is among an emerging group of plagues that, but for luck and the resourcefulness of a few, could have struck down vast populations by now, and not just in the Global South. The Ebola wave that broke out in 2014 travelled to eight countries in three continents by the time it was brought under control.
Spread through contact with a victim's blood or sweat, Ebola is as contagious as seasonal flu. Its victims die horribly and painfully following massive internal bleeding. Its family of viruses is thought to have existed in nature for millions of years. They are, in Preston's words, "the undead of the living world, the zombies of deep time."
Crisis in the Red Zone recounts the 2014 battle against this extraordinary, mutating enemy through the eyes of front-line health care workers, scientists and victims. It reads like a horror-story or thriller — Ebola the rampaging invader, innocent villagers killed brutally, under-resourced doctors and nurses trying frantically to ward off the unseen enemy, scientific sleuths eventually cracking the genetic code of the invisible beast and researchers uniting to build a first defence, in the form of a vaccine, to help stave off near-certain death.
The "Red Zone" itself refers to the quarantine areas to which Ebola patients are restricted when groups such as Doctors Without Borders fly into infected zones to try to contain the disease. Patients are placed in isolation tents, surrounded by fencing to separate the contagious from the healthy. Victims die in these tents and workers in elaborate biohazard suits bleach and remove the bodies, in double body bags, to be buried in sectioned off areas. "The red zones of Doctors Without Borders were, in effect, giant plastic garbage bags in which people with emergent Ebola were kept," Preston writes.
Much of this book focuses on the struggle of a small government hospital in Kenema, Sierra Leone, which is rapidly overrun with Ebola cases. Readers meet the compassionate, heroic doctor, Humarr Khan, the equally brave nurse, Mbalu Fonnie ("Auntie"), the ambulance driver, Sahr Nyokor, and the front-line hospital staff who toil to lessen the pain of patients, knowing they themselves risk death.
Once the little boy becomes ill, others also become infected, but Ebola glides unidentified among victims until a village healer named Menindor dies of it, contracted from a patient. Because she is a revered local figure, hundreds attend her funeral — and hundreds become sick.
But isolating cases of Ebola in such a remote landscape proves difficult for health workers. Villagers fear being snatched away by strange white people in biohazard spacesuits, to be quarantined far from home until they die. When one epidemiologist and his colleagues try to persuade some villagers to let them transport a family member for treatment, they are attacked with rocks.
Outside of Sierra Leone, scientists work to understand the various Ebola strains (there were six at the time of the book's publication), and researchers, including Canadian Gary Kobinger of the National Microbiology Laboratory in Winnipeg, pool their knowledge to create small doses of a test vaccine that shows startling results in monkeys, though it is far from ready for human testing.
The extraordinary circumstances under which the vaccine is finally used on humans — and the heartbreaking story of who it is deliberately not used on — provide a dramatic climax to the book. Crisis in the Red Zone raises uncomfortable moral questions about whom we elect to help when a lethal threat invades a community. It points to both admirable human resourcefulness and dismaying moral neglect. As the world (or some of it) confronts the current attack in the Congo and contemplates future emerging pestilence, Preston writes that our biggest enemy may be complacency. "Right now," he warns, "we are not prepared."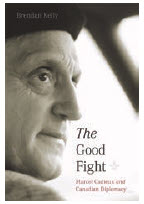 The Good Fight: Marcel Cadieux and Canadian Diplomacy
By Brendan Kelly
UBC Press
540 pages
Hardcover: $45
So you think the perennial issue of Quebec separatism is solely a domestic affair?  Wrong. Welcome to the diplomatic world of Marcel Cadieux.
Cadieux was a Quebec lawyer who joined the then Department of External Affairs in 1941, when Canada was just starting to develop a diplomatic footprint. Diligent, hardworking and uncompromising, Cadieux moved up the ranks, from postings abroad to the department's United Nations Division. Ultimately, he held the post of undersecretary of state for External Affairs, the highest non-elected position in the department. Though less well-known to anglophones than the troika of Norman Robertson, Hume Wrong and Lester Pearson, Cadieux played a unique role in the evolution of External Affairs. "This book," writes author Brendan Kelly, "reframes Canadian diplomatic history by placing a francophone at the centre of the stage."
This "reframing" is important — and, coincidentally, relevant after the recent federal election brought a resurgence of support for the Bloc Québécois — because it reveals just how much the Quebec question consumed the department, even from an early stage.
In 2020, it's easy to forget that External Affairs in the 1940s was unilingual (indeed, by 1946, only 13 per cent of the entire public service was French-Canadian). Cadieux aimed to change that. At External's headquarters in the East Block on Parliament Hill, the young civil servant became the department's go-to guy on policies pertaining to Quebec.
His first overseas posting was to London in 1944, where a day's work in Canada House on Trafalgar Square was regularly interrupted by a scramble into the cellar to escape German aerial bombing. From London, Cadieux was posted to Belgium, witnessing relations between Belgium's Dutch-speaking Flemish and its French-speaking Walloon people. "I was able to realize the French Canadians are not the only people in the world struggling to adjust within a larger state," he wrote.
Rising through the ranks on the strength of his written dispatches, blunt advice and sharp intelligence, Cadieux eventually managed the personnel department at External. There, he helped define the qualifications of a modern diplomat. He wanted these professionals to be "anonymous and apolitical." He wanted higher education in his recruits, and strength of character. An essential part of his focus was recruiting French Canadians. "Two decades before bilingualism became law in Ottawa, he acted on the belief that the federal civil service belonged as much to French Canadians as to their English counterparts," writes Kelly.
When Quebec's "Quiet Revolution" began, Cadieux sensed immediately what he called "an extremely strange nationalist, indeed separatist revival …." He was right to worry: Quebec's cosying up to France suggested a province trying to wriggle loose from Confederation. Soon, there were both overt and covert discussions going on between the Quebec government and French president Charles de Gaulle (whom Cadieux despised). De Gaulle and Quebec premier Jean Lesage had been exchanging letters monthly; much later, evidence would surface of deeper interference by France in Quebec affairs, including offering money to the Parti Québécois (which the PQ wisely turned down). Yet Canada's external affairs minister in the 1960s, Paul Martin Sr., didn't take the dangers of the Quebec-France bond as seriously as did Cadieux. By the time de Gaulle delivered his "Vive le Québec libre" speech in Montreal in 1967, Cadieux had already taken a number of measures to at least blunt its impact within the civil service.
He had, for instance, created a cultural affairs division in External Affairs that opened a Canadian Cultural Centre in Paris to reinforce the principle that the federal government, not the provinces, conducted Canada's foreign policy. He promoted bilingualism in the bureaucracy, tried to hire and mentor Franco-Canadians, worked to expand Canada's diplomatic network to French-speaking Africa and promoted cultural relations with other French-language states. He wanted to ensure that provincial interests abroad were represented primarily by Ottawa; otherwise, he noted, the provinces would represent themselves – with "grave" consequences.
For all his own efforts to keep Quebec within Canada, Cadieux often despaired of the seeming lack of focus among his various bosses: Paul Martin Sr., Lester Pearson, and later prime minister Pierre Trudeau. His descriptions of them in his "journal intime" reflect an exasperation admirably cloaked by his diplomatic training.
Cadieux, writes Kelly, "was a fighting diplomat, the likes of which (the department) had never seen." A united Canada can be grateful he was.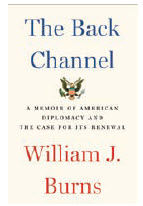 The Back Channel: A Memoir of American Diplomacy and the Case for Its Renewal 
By William J. Burns
Penguin Random House
483 pages
Hardcover: $26.53, Kindle $17
Henry Kissinger called diplomacy "the patient accumulation of partial successes." One figure more than familiar with the mantra is William Burns, the most senior career diplomat in the United States from the late presidency of George W. Bush through most of the Barack Obama era.
In this engaging autobiography, which includes lengthy excerpts from his own memos to senior government officials, Burns assesses American diplomacy from the start of his career as a junior U.S. State Department officer in the early 1980s through to 2014, when he retired as deputy secretary of state. It was a challenging period for his country: the Iran-Contra affair; the fall of the Berlin Wall; the demise of the Soviet empire; the invasion of Kuwait by Iraq; the disintegration of Yugoslavia; the 9/11 attacks and invasion of Afghanistan; the U.S. invasion of Iraq; the Arab Spring and the destructive conflict in Syria.
Burns is both light and serious in tone. For instance, in his first posting abroad, in Jordan in 1983, he recounts how he was relieved of a truckload of computers and portable phones at the Iraq border by security officials, thus "learning my first lesson in professional humility." At other times, he faced graver danger, such as a thwarted terrorist attack on his home in Amman, when he was ambassador (that year, two U.S. embassies in Africa were bombed, killing 224.).
Burns served abroad in Jordan and Moscow, as assistant secretary of state for Near Eastern affairs and as undersecretary for political affairs, his career culminating as the State Department's top official. Inevitably, he spent much of his time and effort tending to U.S. interests in the Middle East. In this capacity, Burns witnessed both triumphs of American diplomacy and flat-out failures.
U.S. dealings with Iraq illustrate both. When Saddam Hussein invaded neighbouring Kuwait in 1990, the team around George Herbert Walker Bush, which had not expected such a bold move, nevertheless used diplomacy with exquisite effectiveness, in Burns's judgment. Rather than rush brashly off to destroy the dictator, then-secretary of state James Baker meticulously built multilateral support, assembling a coalition of international partners willing to put up money and military support (including Canada, which sent warships and fighter aircraft). The U.S. ambassador to the United Nations steadily pushed through resolutions condemning Iraq, from sanctions to broad international backing of limited military action. Not until the U.S. had such support did Bush Sr. unleash the military, swiftly routing Saddam's forces (ground operations lasted barely 100 hours).
What a contrast, Burns laments, to the U.S. invasion of Iraq in 2003. The 9/11 terrorist attacks had again brought international support for military action, this time against Afghanistan. Burns feels the U.S. could have leveraged this strong moral and diplomatic backing to successfully address many other lingering global issues (including its tense relationship with Iran). Instead, after taking on Afghanistan, the Bush Jr. administration squandered its global goodwill by deciding to invade Iraq and finish off Saddam.
Burns's State Department was aghast. "We worried that an ill-considered, unilateral war to topple Saddam would prove to be a massive foreign policy blunder," he writes. It mattered not: On March 19, 2003, Bush Jr. announced that the U.S. was at war with Iraq. The post-conflict mess that resulted — and that continues to this day — "would suck the oxygen out of every other priority on the administration's national security agenda," says Burns.
Nor can it all be blamed on popular villains such as vice-president Dick Cheney. Burns admits his own department's fault. "In the end, we pulled some punches, persuading ourselves that we'd never get a hearing for our concerns beyond the secretary of state if we simply threw ourselves on the track. Years later, that remains my biggest professional regret." The Iraq debacle, he sums up, "left lasting scars on America's influence in an already complicated region." It showed, he sighs, that "Americans could be just as arrogant and haphazard in their impact on the Middle East maps as the original British and French mapmakers."
Other reading:
Schism: China, America, and the Fracturing of the Global Trading System 
By Paul Blustein
Centre for International Governance Innovation, 2019
266 pages
Hardcover: $106.65, Paperback $33.62, Kindle $28
A dismayed world watches China wielding its economic clout to get its way, whether in trade disputes or territorial ones. Many lament that it has not respected the rules around its 2001 entry into the World Trade Organization. Paul Bluestein, who covered the WTO negotiations, says the reality is more complex.
Rigorous standards were set for Beijing's initial entry into the international club, and at least at first, it embraced them. But as the Chinese government tightened control over state-owned enterprises and Beijing launched its "Made in China 2025" strategy, the impact on the global economy deepened. While the alarm of some world leaders — even Donald Trump — is understandable, the solutions to the economic-power problem are not about "bludgeoning" countries like China by doubling down on tariffs; rather, Blustein says, multilateralism is the right tool.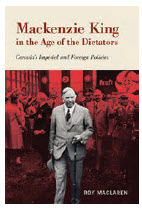 Mackenzie King in the Age of the Dictators: Canada's Imperial and Foreign Policies
By Roy MacLaren
McGill-Queen's University Press
316 pages
Hardcover $34.60, Kindle $24
William Lyon Mackenzie King's role (and, arguably, considerable neglect) in shaping Canada's fledgling foreign policy during the interwar years forms the core of this book. Though he served as his own external affairs minister and considered the field "his personal fiefdom," Canada's prime minister for most of the period from 1921 to 1948 took an ultra-cautious view of Canada's identity. He "discouraged" parliamentary debate on foreign affairs, fearing in part that it would divide French and English Canada; he exercised "blind support" for European appeasement of both Hitler and Mussolini in the 1930s; and he "prided himself on never having said anything derogatory about Hitler or Mussolini until war itself came." Simply, Mackenzie King feared alienating isolationists throughout Canada, who might then threaten his parliamentary majority.
Rush to Danger: Medics in the Line of Fire
By Ted Barris
HarperCollins
432 pages
Hardcover $33, Kindle $18
Historian and master storyteller Ted Barris opens this account of the lives of military medics with the story of his own father, a U.S. army medical corpsman in the Second World War who saved four other medics caught in a German ambush. Like many medical heroes — from John McCrae (author of "In Flanders Fields"), to medic Pvt. Desmond Doss (whose story is vividly retold in the movie "Hacksaw Ridge") — he made no big deal of his actions. But Barris wanted to know, "Why, when all the word was dashing the other way, would he choose to rush to danger?"
In retracing his father's war experience, and exploring those of other medical personnel through the Civil War, the Boer War, Korea and Afghanistan, Barris offers a portrait of a unique, courageous band of heroes.
Christina Spencer is the editorial pages editor of the Ottawa Citizen. She holds a master's from the Norman Paterson School of International Affairs at Carleton University, and is a past winner of National Newspaper Awards for international reporting and editorial writing.
Erratum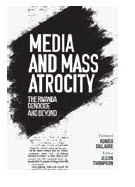 In the October 2019 issue, due to an editing oversight, we used the wrong book cover for the review of Media and Mass Atrocity: The Rwanda Genocide and Beyond. We apologize to the Centre for International Governance Innovation for the error. The proper book cover is printed here.
Category: Delights