Editor's note: At press time, many public places were closed. Check with galleries before heading out.
It's spring, and art about nature and its wild creatures is blooming all over Ottawa.
Four artists — three from Ottawa, one from the West Coast — have their own perspectives on nature, from the eccentric and sardonic to the sensual and enigmatic.
First up is Russell Yuristy, a Saskatchewan-born elder statesman of Ottawa art, with an exhibition at the Ottawa Art Gallery titled The Inside of Elephants and All Kinds of Things.
The show focuses on the early years of Yuristy's career, mainly "the dynamic period between 1970 and 1990" when he "crafted a whimsical portrait of the natural world, rural culture and his place in both, emerging as one of the most unique Canadian anti-establishment artists,"says the exhibition catalogue.
The art was big, fun and literally playful. In the early 1970s, he launched the Creative Playground Workshop, and began building functional versions of iconic Canadian creatures — a buffalo, a beaver, a polar bear and, exceptionally, an elephant. They were installed in towns and cities across Canada and the United States. The structures, which were built from discarded lumber and paint and other found materials, no longer exist, but the elephant has been partially rebuilt in the gallery for this exhibition.
The other structures are seen in photographs, including the beaver that was on Victoria Island near Parliament Hill, and the fish that was next to the old Ottawa City Hall on Sussex Drive. Also included are drawings that inspired the playground project, sketched on a daily basis by the young Yuristy, just loose lines and fantastical ideas on paper.
Rounding out the exhibition are paintings, drawings and sculptures, made near the end of the period covered and likely more familiar to followers of Yuristy's art — drawings of majestic, leaping salmon and sculptures of horses hauling sleds full of people, or full of manure. Humour and whimsy have always been essential to Yuristy's work, as surely as has his unshakeable love for the natural world.
The Inside of Elephants and All Kinds of Things continues at the OAG to July 26. The exhibition is curated by Catherine Sinclair, and presented by Lawson Hunter. See oag-gao.ca for more.
Untold stories of wolves and other beasts
At the Ottawa City Hall Art Gallery, Anna Williams' Untold Stories I Once Wished Lost "reflects on what we have lost in our passage from nature to culture," the Ottawa artist said.
Williams' language is prints and sculpture and, in the latest exhibition, she uses it to consider how "family history, identity and mythologies of womanhood intersect to offer alternative definitions of what it means to be female."
An early look at work created for the show included woodcuts and linocuts that, typically for her, were fuelled by a rich undercurrent of the mythological. Wolves have been a constant theme in Williams' work — often hybrids of half-wolf, half-human female — and here they share space with bears, deer, plentiful birds and humans.
The prints are densely etched and rich in symbolism. In one linocut, the brothers Otus and Ephialtes, of Greek myth, are surrounded by lush forest and an audience of crows or ravens. Across a gap in the foliage are two females, presumably the goddesses Artemis and Hera, whom the brothers had sought to capture on Mount Olympus.
In her work, Williams creates a mythologically inspired world of her own, and this exhibition is sure to be the next chapter in her evolving consideration of female identity in modern society. The story, to date, has been fascinating.
Untold Stories I Once Wished Lost runs May 7 to July 12 at the City Hall Art Gallery. More at annawilliams.ca.
'Delightfully unsettling' dioramas
Wall Space Gallery will feature the delightfully unsettling art of Ottawa's Patti Normand in a show titled North Star.
Normand is known for her compact dioramas and large photographs of those dioramas, and at first glance they seem bucolic — happy people on picnics, boating excursions and other adventures into nature, or perhaps getting married in a park or simply enjoying their own residential property. Then you lean in for a closer look and see the breaching whale, the menacing bear, or the approaching tornado. As Normand puts it, "it becomes apparent all is not as it seems."
Each of Normand's dioramas is a tidy world of its own, safely encased in glass (usually a cake stand) or plastic (usually a simple, square box). Each photograph, printed in large format, captures and even adds to threats that can be imminent and obvious, or more mysteriously foreboding.
Her new work is inspired more by "our relationship to nature, either our awe if it, or our total disregard for it and the sometimes devastating effect of that." For this exhibition she is "work(ing) larger with ceramic sculptures and some painting."
New work by Patti Normand will be shown June 11 to 30 at Wall Space Gallery, 358 Richmond Rd. wallspacegallery.ca
Moth explores his logging history
Another personal relationship with nature is extrapolated into questions for all to consider in Troy Moth's exhibition at Studio Sixty Six in the Glebe.
Moth is a photographer and filmmaker from a family of loggers on Vancouver Island. This outing features wood sculptures he created from cut blocks salvaged from logging sites. The results still feel organic, as Moth has maintained the natural presence of the wood. He wants viewers to consider "what we value and what we discard, what we commodify and covet." Or, saliently, "how do we judge what is worthy or worthless?" Moth's show runs June 5 to July 5 at Studio Sixty Six, 858 Bank St. studiosixtysix.ca.
Also showing . . .
Neeko Paluzzi, The Little Prince, now open to May 24 at Karsh Masson Gallery in Ottawa City Hall: Inspired by the beloved novel, and a recent sleep in his own childhood bed, Paluzzi's photographs show seven imagined planets, all observed through a classic View-Master. paluzzi.ca
Raynald Leclerc, Paysage et emotions, April 4 to 18 at Koyman Galleries, 1771 St. Laurent Blvd.: Ottawa's largest commercial gallery features Leclerc's classically impressionistic landscapes. The self-taught artist's focus is the Canadian landscape, particularly the Charlevoix region in Quebec. koymangalleries.com.
France Jodain, Earth, water and sky, April 16 to 28 at Galerie St-Laurent+Hill, 293 Dalhousie St.: There's a diaphanous warmth to Jodain's landscapes, as if they're viewed through a summer haze. Vague figures seem to emerge from a near horizon, all rendered with a soft touch and soft palette, and with oblique titles such as "A raindrop and a stem to hold the tiny gem." galeriestlaurentplushill.com.
Student Graduation Exhibition, April 17 to May 1 at SPAO (School of Photographic Arts Ottawa), 77 Pamilla St.: Ottawa's photographic art school presents its annual year-end exhibition by its students. Style and subject vary, and it's a great opportunity to find inspired work by emerging artists at affordable prices. spao.ca
Svetlana Swinimer, Unveiling Goddess, May 2 to 30 at Gallery 101, 280 Catherine St.: Ottawa artist Swinimer uses Makosh, the ancient goddess of destiny, as a lens to explore prehistoric beliefs, and "times when nature and the cosmos were everyday parts of human existence." g101.ca
Nordic Lab grand opening, June 12, 7 p.m. to 2 a.m. at SAW Gallery, 67 Nicholas St.: The opening of SAW's Nordic Lab takes place, with an exhibition by the Sámi art collective Suohpanterror, and other art and music from around the circumpolar world. saw-centre.com/#nordic-lab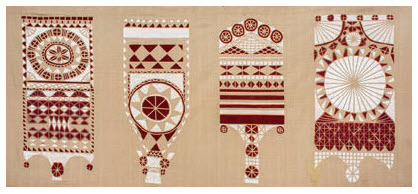 Contact pete@petersimpson.ca with details of your upcoming art exhibitions.
Category: Delights