The very recent fighting between Israel and the terrorist organizations Hamas and Palestinian Islamic Jihad (PIJ) — both banned in Canada as foreign terrorist entities — is not about age-old grievances between Israel and Palestinians. It is about Iran.
During Quds celebrations last year, according to the Associated Press, Iran's supreme leader Ali Khamenei called Israel a "cancerous tumour" that "will undoubtedly be uprooted and destroyed." In January 2021, Iranian lawmakers drafted legislation that would obligate the Iranian government to initiate steps for the "destruction" of Israel by 2040. Ali Shirazi, Khamenei's representative in the Islamic Revolutionary Guard Corps' (IRGC) Sar-Allah Headquarters in Tehran, on Quds Day in May, warned that the IRGC was fully ready to act: "If Israel pursues adventurism, we can destroy the forged regime in [fewer] than 24 hours."
He stressed that Iran had the missile capability to reach Israel. Shirazi went on to promise that young Iranians would one day "witness a world without Israel." The recent fighting between Israel and the Gaza terrorist factions is about Iran wanting hegemony over the Middle East. It is about pushing the U.S. from the region and destroying Israel through Iran's proxies. In this case, it is Hamas and the PIJ [Palestinian Islamic Jihad] that Tehran funds, trains, equips and directs.
For Iran, this is also a chance to split Israel from its new-found Arab friends in the Abraham Accords — UAE, Bahrain, Sudan, Morocco and Oman — that have essentially formed a coalition against Iran. The problem for Iran is that many of these Arab countries, including Saudi Arabia, hate and have outlawed the Muslim Brotherhood and Hamas found its origins in the Muslim Brotherhood. While Arab countries support the Palestinian people and Palestinian Authority, they are prepared to turn a blind eye to Israel, degrading a strong point of the Muslim Brotherhood in Hamas and a major client of Shia Iran. Tehran also wants to push U.S. President Joe Biden for a new nuclear deal, an easing or end of sanctions and more cash. Iran is likely a year and mere months away from producing nuclear weapons for delivery from its ballistic missiles.
The Iranian regime may have had reason to believe, based on diplomatic negotiations with the Biden administration, that the flare-up in violence with Israel might be overlooked. The Biden administration, after promising to consult with allies, ignored Israeli and other regional partners' concerns and entered new negotiations with Iran about its nuclear program to reinvigorate the Joint Comprehensive Plan of Action (JCPOA) that former U.S. president Barack Obama struck in 2015 and Donald Trump killed in 2018. Iranian President Hassan Rouhani's spokesman cautioned that the new nuclear deal, even if agreed to by state representatives, would still have to be approved by "higher-up" in Tehran, giving Khamenei the ultimate veto. Not surprisingly, Iran has admitted it has already surpassed the limits on its nuclear program set by the JCPOA and several areas of cheating have been reported by a variety of international sources. The Biden administration removed support from Saudi Arabia's fight with the Iranian proxy Houthi militia in the Yemeni Civil War and then delisted the Houthis as a terrorist organization.
Offering Iran sanction concessions
The Biden administration has given as much as $200 million to the Palestinian Authority (PA), and a new Iran nuclear deal would remove sanctions, giving Iran tens of billions of dollars to spend on international terrorism. The Obama administration eased sanctions in its 2015 nuclear deal with Tehran, only to witness well-armed, trained, funded and motivated Iranian proxy militias pop up across the region. It has been reported that the Biden administration has offered Tehran even more money and concessions on 1,000 sanctions outside the nuclear realm, including the ransom of U.S. citizens held by Iran. American Democrats have seized upon Palestinian and Arab propaganda and now possess large vocal pro-Arab, pro-Palestinian and even pro-Iran lobbies that threaten to splinter party unity, forcing Biden to take a more measured tone than previous U.S. presidents. Finally, there is evidence that the Iranian leadership views the new Biden administration, and Turkish condemnation of Israel, along with Russia and China and Iran growing in power, as evidence that time is shifting against Israel and that it is losing Western support.
Iran wages war through proxy militias throughout the region and through rocket and drone attacks, so it has plausible deniability, in an attempt to avoid all-out war. Hamas was formed in the 1980s as a Palestinian branch of the Muslim Brotherhood with the goal of destroying Israel. In 2006, Hamas won the absolute majority in Gaza's general elections and, in 2007, it seized Gaza by force of arms in a coup. Since then, the West Bank has been controlled by the moderate Fatah Party of the old Palestine Liberation Organization under Mahmoud Abbas and the Palestinian Authority, while Gaza has remained under Hamas control. Palestinian elections were supposed to take place in 2009, but due to the prospect of a Hamas win, Abbas has steadfastly refused to call elections, with the result that both groups have been in power in their own fiefdoms without democratic elections for 16 years. According to the International Institute for Strategic Studies (IISS) respected Military Balance, Hamas is estimated to be between 15,000 and 20,000 strong with one commando unit, 27 battalions and 100 companies of paramilitary troops. It should be noted that Hamas has anti-tank and anti-aircraft missiles, largely of Russian origin, and a variety of light and heavy arms, in addition to Iranian-designed Fajr-5 ground-to-ground rockets and Shehab kamikaze drones. The Shehab drones closely resemble the Iranian Ababil drones, which have also been sent to the Houthi militia in Yemen.
Palestinian Islamic Jihad is based out of Damascus and was formed in 1981 with the goal of destroying the Jewish state. Like Hamas and six other Palestinian terrorist factions operating in Gaza, it is opposed to the 1993 and 1995 Oslo Accords and a two-state solution. PIJ has approximately 8,000 lightly armed troops, but it is armed with rockets designed and/or provided by Iran. Unlike Hamas, it offers no humanitarian aid to the Gaza population, nor does it engage in any form of diplomacy.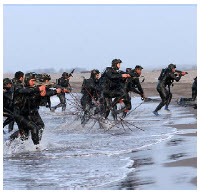 In 2008, Hamas announced that it would only strike Israeli military targets. The last time the terrorist entity went to war with Israel was in 2014 when it launched 4,000 rockets in a month at the Jewish state. Meanwhile, in 2018, PIJ fired 800 rockets at Israel and, in 2019, it fired another 600 while Hamas generally stayed clear of the fighting.
This time, there have been more than 4,360 rockets launched in a week at Israeli civilian targets by PIJ and Hamas at an estimated cost of $175 million to Hamas. In some cases, Hamas and PIJ fired rockets in salvos of 72 or more in just minutes. According to the Gatestone Institute, an official with the PIJ reportedly said, "the rockets we use to pound Tel Aviv, our weapons, and our food are provided by Iran." Iranian news media reported that Brig.-Gen. Esmail Ghaani, commander of Iran's IRGC-Quds Force, spoke by phone with Ismael Haniyeh, chairman of Hamas' political bureau, to discuss developments amid its conflict with Israel. Iran's IRCG has warned that the Houthis in Yemen, another proxy militia, may soon have missiles with the range to strike Israel. IRGC Aerospace Forces Commander Brig.-Gen. Amir Ali Hajizadeh warned: "Don't be surprised if you hear in a near future that Yemen acquires missiles that can target the Zionist regime." Iran has proxy militias in Gaza, Lebanon, Syria and Yemen to bracket Israel with rocket fire, and they are prepared to do it. The Lebanese daily Al-Akhbar reported that Iran, Hezbollah and Hamas had set up a joint command headquarters for the fighting. Iran used a drone flown from a base in neighbouring Syria to attack Israel in 2018, and Hezbollah was directed by Tehran to send a "killer drone" team to an area near the Golan in 2019, with both attacks failing to reach their targets.
Meanwhile, according to the International Institute for Strategic Studies' Military Balance 2021, the Israeli Defence Force (IDF), despite still relying on national service conscripts, is one of the best-trained, led, equipped, motivated, funded and strategically and operationally innovative militaries in the world. The regular Israeli military, including conscripts, is 169,500 troops strong and has 465,000 reservists to call upon in times of crisis. It is said to possess a robust, but modest, nuclear force that can be deployed by land, sea and air forces. The IDF is without a regional peer and is geared to operations in and near Israel's borders within the Middle East and to counter asymmetric military threats with its military forces. It has a decided advantage in precision-strike and missile-defence capabilities.
Palestinians' David to Israel's Goliath
Israeli military superiority has led to the 'David versus Goliath' comparisons with its Palestinian adversaries, once said to use rocks, small arms and suicide bombs in backpacks and vests. Today, the David versus Goliath myth of Hamas activists throwing stones at Israeli soldiers armed with tanks still exists in the minds of those with notions of anti-Semitism, oblivious to the fact that Palestinian terror groups are now armed with Iranian designed-rockets, suicide drones and Russian air defence systems and anti-tank rockets. Iran's Revolutionary Guards said in a statement: "The intifada [Palestinian uprising] has gone from using stones to powerful, precise missiles … and, in the future, the Zionists [Israel] can expect to endure deadly blows from within the occupied territories." Hamas has shown the capabilities of its multiple launch rocket systems during the fighting, and its new unmanned submarines and naval suicide squads.
The most recent Gaza violence was initiated on May 10, 2021, by Israeli police raids on the al-Aqsa Mosque compound and clashes with Palestinians during the Muslim holy month of Ramadan. Stalemate in negotiations between Israel and the Palestinian Authority on Jewish settlements, the return of Palestinian refugees, evictions of Palestinians from disputed areas, the status of East Jerusalem and the Temple Mount are decades-old problems that provide tinder for the fighting, but have not ignited into war in a long time. Even when former U.S. president Donald Trump announced the move of the U.S. Embassy from Tel Aviv to Jerusalem, strengthening Israel's claim to the entire city as its capital, there were not salvos of rockets fired at Israeli cities. Palestinians and Israelis want to live in peace. On May 17, Iran's Khamenei said that "liberating Palestine" is the "No. 1 goal of the Islamic ummah [religious group]," warning that even a new "nuclear deal" will not end the clash of civilizations in the Middle East.
According to Palestinian and Israeli sources, Brig.-Gen. Esmail Qaani, commander of the IGRC Quds Force, sent a letter to Mohammed Deif, the supreme commander of Hamas's military wing and pledged that Tehran would not abandon the Palestinians. As well, in May, IGRC Maj. Gen. Hossein Salami pledged Iran's unwavering support for the Palestinians. In a TV statement, Ismail Haniyeh, Hamas leader and a former prime minister of the Palestinian Authority, thanked Iran for providing weapons to attack Israel. It was later reported that Tehran had sent an armed drone from either Syria or Iraq to attack Israel, but it was shot down by Israeli defences near Beit She'an.
Israelis warn civilians
Israel has made every effort to a avoid civilian casualties, even as it increasingly stands accused of being reckless and overly aggressive in prosecuting war against its terrorist enemies and critiqued on the proportionality of Palestinians killed and wounded compared to the number of Israelis killed and wounded in the fighting. Hamas and PIJ violate the rules of war by hiding their military facilities among civilians, hoping to avoid attack. IDF has done all it could to ensure minimum loss of civilian life by selecting targets where the lowest levels of civilians would be harmed. It has made radio broadcasts in Arabic, sent SMS messages and even phoned civilians inside the strip to warn them of impending strikes, a fact confirmed by interviews between Gazan civilians and the Associated Press. The Israelis drop a non-explosive device on the roof of targets as a warning 15 minutes before they launch a strike against the building, to warn people to evacuate. Gaza is a territory under the control of Hamas, which has created a terrorist pseudo-state much like ISIS, and one that has engaged in the ethnic cleansing of Gazan Christians. Hamas has funds to build huge underground tunnel networks, but does nothing to protect the civilian population in Gaza because it needs to be able to hide military facilities among civilians.
In fact, at least 680 Hamas-fired rockets came down in Gaza, causing civilian casualties among Palestinians while Israel's defence system was 90 per cent successful in defending Israeli targets.
Canadians will have read and heard much about a building housing AP and Al Jazeera being destroyed by Israeli fire, but likely will not have heard that they were co-located, again, with Hamas's offices. The fact of Hamas presence in the media building attack was confirmed by intelligence provided to the U.S. by Israel and members of the former Obama administration familiar with the facility. It later emerged that the target was home to Hamas military research offices attempting to find a way of defeating Israel's critical Iron Dome system. According to the Arab Weekly and ABC News, the elites of Hamas live abroad in four- and five-star hotels with their families to avoid Israeli attack and suffering experienced by the rest of the residents of Gaza.
For Hamas and PIJ, this is an opportunity to outmanoeuvre the Palestinian Authority and the old Palestine Liberation Organization, headed by Mahmoud Abbas, who has been in power without democratic election since 2009. A ceasefire took hold on May 21, after 11 days of fighting and with U.S. intervention and support from the UN, Egypt and Qatar to the then-Netanyahu government in Tel Aviv and even then, after agreeing to the ceasefire terms, Hamas fired one more salvo at Israeli cities. Reuters reported 143 Palestinian civilians killed in the fighting, including 65 children. A total of 1,900 were wounded and 90,000 displaced. Israel saw 12 civilians and 1 soldier killed and at least 100 wounded in the battle with Hamas and Palestinian Islamic Jihad. The Israeli military attacked and destroyed Hamas's extensive metro tunnel network in Gaza, its rocket factories, weapons laboratories, storage facilities, suicide submarines, suicide squads and anti-tank missiles, and killed more than 200 militants, including 25 senior figures in Hamas and PIJ.
Israelis exploiting Hamas
We now have a ceasefire under which Hamas and PIJ have stopped firing rockets at Israeli cities, and Israel has halted its counter-attacks. This is very simple. But that is not what Tehran wants in the long run because the Iranian leadership believes time is on its side. Hamas and PIJ are very happy to act on Iran's behalf as that is what they are paid, trained and armed to do. Samir Ghattas, former Egyptian parliamentarian and head of the Egyptian Middle East Forum for Strategic Studies, said, "Iran exploited Hamas and the Islamic Jihad for its own benefit only, and if it wanted the interest of the Palestinians, it would have contributed to the reconstruction of the Gaza Strip…. Tehran has not contributed or made donations for humanitarian or reconstruction projects in Gaza…." Arab journalist and media commentator Amjad Taha said, "the Hamas militias in the Gaza Strip belong to Iran. What these militias recently did was serve Iran's Revolutionary Guards Corps." Meanwhile, Tehran goes about its determined way to destroy a Western liberal democracy in Israel and to settle accounts with its Arab Sunni neighbours for the greater glory of a new Persian Empire and the triumph of the Shia sect over the dominant Sunni branch of Islam.
Wars, insurgencies and terrorism are ended through political means, not through the barrel of a gun, not through rocket attacks or precision air strikes. This ceasefire represents a temporary break. Hamas and PIJ had an estimated 15,000 rockets before this bout of fighting. Hezbollah could rain 8,000 rockets a day down on the Jewish state. This spring, Iran displayed a new domestically developed and produced combat drone called the "Gaza" that it said had a range of 2,000 kilometres. According to Iranian authorities, the new drone could fly for 35 hours and carry 13 bombs and 500 kilograms of electronics equipment. It is an ominous warning of things to come and a political solution looks all but impossible now and in the distant future. Ultimate power in Iran rests with Khamenei and the Iranian president serves at his pleasure and direction. Iran's new president-elect, Ebrahim Raisi, — nicknamed "the butcher of Tehran" — is the Islamic Republic's hardline chief of the judiciary and as such chief executioner known for mass murders of his own people. For his part, Israel's new prime minister, Naftali Bennett, warned in June that Raisi's election heralded the birth of a "regime of brutal hangmen." Bennett went on to further caution that Raisi's election was "the last chance for the world powers to wake up before returning to the nuclear agreement and to understand who they're doing business with. These guys are murderers, mass murderers: a regime of brutal hangmen must never be allowed to have weapons of mass destruction that will enable it to not kill thousands, but millions."
Joe Varner is the author of Canada's Asia-Pacific Security Dilemma, a former director of policy to the minister of national defence and an adjunct scholar at West Point's Modern War Institute.
Category: Dispatches