Robert D. Kaplan and Eugene Chausovsky
Pipelines of Empire is republished with
permission from Stratfor. Robert D. Kaplan
is chief geopolitical analyst for Stratfor,
a private global intelligence firm, and
a non-resident senior fellow at the Center
for a New American Security in Washington.
Eugene Chausovsky is a Eurasia
analyst at Stratfor.
Robert D. Kaplan and Eugene Chausovsky's Latest Posts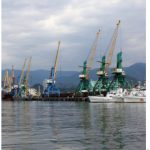 At this juncture in history, the fate of Europe is wound up not in ideas, but in geopolitics. For millennia, eruptions from Asia have determined the fate of Europe, including invasions and migrations by Russians, Turkic tribes and Byzantine Greeks. Central and Eastern Europe, with their geographical proximity to the Asian steppe and the Anatolian […]