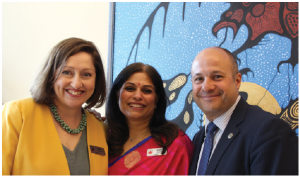 When you can give a deeply impoverished child all the things she needs to feel as though she fits in at the start of a new school year, you've given her the dignity to thrive.
That's what the Asia-Pacific division of the Heads of Mission Spouses Association did for upwards of 200 children who are clients of Ottawa's Wabano Centre for Aboriginal Health when it held its big annual fundraiser June 11.
"When people come together and they're generous to a population they know very little about, but they have an open heart and they care, that's special," said Allison Fisher, executive director of the Wabano Centre. "These folks took a look at our community and saw that our children needed some help and they asked what they could do."
Fisher told the spouses a program called Walk in Beauty that provides the children with much-needed school supplies and shoes — to start the school year on the right foot, so to speak.
HOMSA was hoping to raise $10,000 with proceeds from ticket sales for the event, which included an exotic lunch of dishes from all over Asia, along with a raffle and silent auction. In the end, it raised approximately $22,000, which Fisher said will help at least 200 of her centre's children with their back-to-school needs.
Why did the diplomatic spouses choose the Wabano Centre as its recipient this year? One of the members of the Asia-Pacific group of HOMSA told Jane Haycock, wife of Australian High Commissioner Natasha Smith, the Wabano Centre was worth considering for support. Some committee members then met with Fisher and they talked about their common interests of supporting women in the community.
"We discussed the things they do with school children and we had a bit of a brainstorming session," Haycock said. "[Fisher] explained they were looking for funding to support the [back-to-school] program. She told us that some children who come to Wabano come from very unprivileged families, often coming from a long a way outside of Ottawa into the city. She said they are not very well supported and their family networks are quite poor. As we're an international community, we saw a nice fit in helping Canada's Indigenous community. It was a sense of community meeting community and reaching out to help each other."
One in five Canadian children lives in poverty and for Indigenous children, that statistic jumps to two in five. At Wabano — which is part of a network of Ontario community health centres and provides medical clinics, social services and support and youth programs — 5,000 children come through the doors every year, and 81 per cent of them live in poverty.
Category: Diplomatica