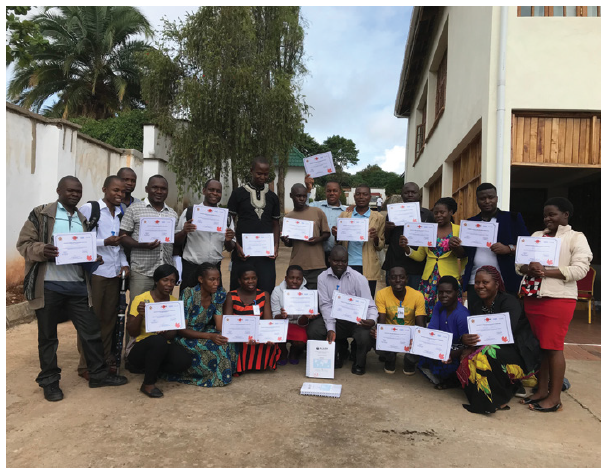 In a white room inside a plain building in the town of Mzuzu, Malawi, doctors John Smith and Doris Kayambo stand behind a table where they have laid out a variety of medical instruments and models over a white sheet, ready to teach a room full of eager medical and clinical officers, midwives and nurses about the latest best practices as part of the Society of Obstetricians and Gynecologists of Canada's (SOGC) ALARM International Program (AIP).
"Malawi has made incredible strides in women's health in the last decade," said Kayambo. "It is important work to continue and ensure that the health practitioners here have the latest tools available to not have them slide back to a care model that puts women and their babies at risk."
The SOGC has been promoting excellence in the practice of obstetrics and gynecology to advance the health of women through leadership, advocacy, collaboration and education for 75 years in Canada. While the health and well-being of women and their children has improved in Canada as a result of the work of organizations such as the SOGC, internationally, the outcomes for women in developing countries have not followed the same trend.
This is why, in 1998, the SOGC adapted the contents of its ALARM (Advances in Labour and Risk Management) course to the realities of health professionals practising in low-income countries. The objective of the ALARM course is to equip health professionals with the most recent best practices in providing care to women during labour, their babies and their families.
"Having the most up-to-date information in clinical practice is essential to healthy outcomes in pregnancy," said Jennifer Blake, CEO of the SOGC. "ALARM and its international program seek to give doctors, nurses and health administrators the tools they need to recognize, assist and help treat women during and after pregnancy, in order to reduce mortality."
The AIP has been taught in more than 20 countries in Africa, Central America, the Middle East and Asia and its impact has been immediate. Two years after ALARM training was provided in Senegal and Mali, maternal deaths decreased by 15 per cent.
"What is most important is that we can provide the tools for better care. We all want the same thing and that is healthy moms, healthy babies and healthy communities," said Kayambo. "But most of all, one aspect I find most rewarding is to see the change in worldview that the participants have when it comes to the sexual and reproductive health and rights of women."
As one participant from Malawi explained, "Sexual and reproductive health and rights are the most neglected areas in practice. This course taught me [that] most mothers who have died in our country, [died because] they have no [rights] of their own."
Those fundamental rights as outlined by the SOGC include the rights to life, health, education and information, privacy, number and spacing of children, consent to marriage, freedom from discrimination, freedom from harmful practices, freedom from violence and the right to share in the benefits of scientific advancement.
Having not only the women, but all those involved in health care on the ground, understand that women have these sexual and reproductive health rights is one of the most fundamental aspects of the training the program is seeking to help trainees understand.
"Our immediate focus should be on giving women around the world access to comprehensive sexual and reproductive health services, including family planning, access to safe abortion, skilled attendance at birth and timely emergency obstetrical care," says André B. Lalonde, former executive vice-president of the SOGC. "As a long-term strategy, the focus should be on increasing education, strengthening gender equality and empowering women."
This base understanding of rights is essential to assisting the health practitioners on the ground to deliver the level of care that is necessary to each patient. Understanding that women in these rural or isolated communities have certain rights when it comes to their sexual and reproductive health will help in turning the statistical tides in these women's favour.
Jay Poulton is director of communications with the SOGC.
Category: Diplomatica