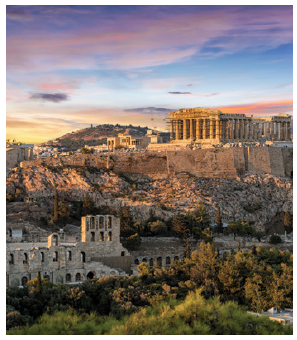 Canadians speak fondly about Greece — especially its natural beauty and interesting history. In fact, according to the most recent survey conducted across Canada, more than two in three Canadians would consider visiting Greece and vacationing there. Canadians most frequently mention history, historical sites and architecture as the main reasons. As such, tourism has been a top priority of our government. With its strong tourism policy, we've achieved unprecedented growth for four consecutive years. We've strengthened our international presence and launched Greece successfully as an attractive destination that stands out for its unique travel experiences. In 2017, we welcomed more than 30 million tourists. That's 6 million more than three years ago, and 2018 was also an exceptional year during which Greece attracted about 2 million more. This year could be another record year for tourism in Greece, with an expected 290,000 Canadian tourists among those choosing Greece as their vacation destination for 2019.
Launched in July 2013, the Greek golden visa program grants a five-year residency visa in return for a real estate investment that exceeds 250,000 euros (300,000 including taxes and fees.) There is no minimum stay requirement and children up to the age of 21 can be included in the family application. The visa can be renewed if the property investment is retained. Investors don't have to live in the country to retain and renew the investor visa, but they will want to budget for the additional taxes on real estate, which are 24 per cent. That said, this program offers the lowest cost residency in Europe. Securing entry into the Greek residency program takes approximately 40 days. 
International bailout programs were an important step in Greece's return to economic normalcy and renewed prosperity and they will continue to generate positive results as the country carries forward the ongoing and important work of implementing reforms and improving its international competitiveness.
Today, as we look back, the most significant progress has taken place since the beginning of the sovereign debt crisis in 2010, progress made thanks to the immense and unprecedented sacrifices of the Greeks. The implementation of this bold economic adjustment program has eliminated the root causes of the Greek crisis. It's worth noting that the fiscal adjustment was unprecedented, turning a primary deficit of 10 per cent of GDP in 2009 into a primary surplus of four per cent of GDP in 2017. In addition, the current account deficit has been reduced by more than 12 percentage points of GDP since the beginning of the crisis. Finally, labour cost competitiveness is fully restored and price competitiveness has been recording substantial gains since 2009. 
The structural reform program covered various areas, such as the pension and health care systems, goods and services markets, business environment, tax system, budgetary framework and public sector transparency.
Thanks to these reforms and the effort of business to make up for declining domestic demand by exporting to new markets, openness has improved substantially and the economy has started to rebalance towards export-oriented sectors.
The share of total exports in GDP increased from 19 per cent in 2009 to 37.7 per cent in 2018. Exports of goods and services, excluding the shipping sector, have increased in real terms by 53 per cent since their trough in 2009, outperforming euro-area exports as a whole. Greece's shipping sector itself controls about 20 per cent of the global fleet of 4,746 vessels in deadweight tonnes.
The volume of export goods and services in the economy increased cumulatively between 2010 and 2017 by 14 per cent, relative to non-exports in terms of gross value added. The rebalancing of the economy towards internationally tradable sectors was facilitated by increases in the relative prices and net profit margins of export goods and services. It is worth underlining that, in 2017, the estimated net profit margins of exports were three times higher than those of non-exports.
Greek-Canadian trade is healthy, but there is definitely room for improvement given the investment climate in Greece and its strategic position at the crossroads of three continents. In 2018, trade volume reached almost $384 million, up by nearly 6 per cent over 2017. The main Greek products imported by Canada are olive oil, prepared vegetables, preserved food, seafood products, cheese, wine, fats, oils and chemical products. Canada exports mainly soya, fur, legumes and pharmaceutical products to Greece. It is worth mentioning that Canadian interest in quality Greek food products has risen significantly in recent years.
Greece welcomes Canadian investors not only in tourism, but also in energy, information and communications technology (ICT), life sciences, food and agriculture and logistics — sectors that are now in the core of Greece's long-term strategy of economic gro
Dimitrios Azemopoulos is the ambassador of Greece to Canada. Reach him at
gremb.otv@mfa.gr or (613) 238-6271.
Category: Diplomatica